Who has Madison Beer dated? Boyfriends List, Dating History
• Madison Beer is an American singer-songwriter, TV personality, and social media star.
• She gained prominence in 2012 when Justin Bieber shared her song covers on Twitter.
• She has released one studio album, one extended play, and 18 singles, which earned her Gold and Platinum certifications.
• Madison has been in multiple relationships, including with Justin Bieber's manager Scooter Braun, Jack Galinsky, Brooklyn Joseph Beckham, and Zack Bia.
• She confirmed her bisexuality in 2020.
Madison Beer is an American singer-songwriter, TV personality, and social media star, who burst into the music scene through her song covers on the video-sharing site YouTube. She gained prominence in 2012, when Justin Bieber shared a link to his Twitter followers of three of her videos, including her version of Etta James' song, "At Last." It quickly trended on social media and made her an instant online celebrity. She has since then released one studio album, one extended play, and 18 singles, which earned her Gold certifications from the Recording Industry Association of America, the RIAA, and Platinum certifications from the British Phonographic Industry, or BPI.
Madison Elle Beer was born on 5 March 1999, in Jericho, Long Island, New York, to parents Robert Beer, a high-end real estate developer, and Tracie Beer, an interior designer. She and her brother Ryder, were raised in a comfortable Jewish home, although  Her parents divorced when she was still quite young. At age four, she won a modeling competition, and appeared on the cover of a children's magazine.
selfish getting a nomination for #VMAs pic.twitter.com/nX8NHcAs8r

— madison loops (@madisonbloops) August 11, 2021
Madison was always a willful child, cutting her hair to have bangs just like Miley Cyrus when she was just nine years old, which led to a disastrous result. Her being loud and outspoken has been disadvantageous, since she and her family moved to Los Angeles to pursue her singing career – she was often misconstrued because of her New Yorker trait of speaking without filter, which led people to describe her as annoying and obnoxious.
Justin Bieber may have been instrumental to her immediate shot to fame, but before he saw her video, other people played a role to get it into his hands. It was her mother who posted her cover on Facebook, and one of her friends saw it and was impressed. It was sent to Justin's manager Scooter Braun, who eventually shared it with Justin. At 13 years old, Madison signed up with Scooter's record label, Island Records, and started to record tracks. Due to her age, her label thought it was best for her to do bubble-gum songs, even if she was more into the R&B/Soul genre.
She was supposed to release her debut album, but due to artistic differences, she was dropped by her label. Even at the young age of 16, she knew what she wanted, and wasn't happy at the label's decision to put her in a box when it comes to her sound.
Devastated by the turn of events, her mother encouraged her to continue pursuing her dreams, and by managing her career as Madison went independent. She released the EP, "As She Pleases," which accumulated billions of streams on Spotify. In 2019, she signed up with Epic Records, maintaining her creative freedom, and releasing her debut album "Life Support," at the age of 21. Due to her talent and perseverance, she gained massive support online, and now has close to 26 million followers on Instagram, 15 million fans on Tiktok, and around 2.5 million followers on YouTube.
Madison's Dating Timeline
It was difficult to date, for someone who has been in the spotlight since she was barely a teen. However, as one who owes her fame to the internet, she can only blame herself for this predicament. Most social media celebrities tend to overshare, as they continuously post every little thing that's happening to them.
Her followers felt that they had the right to poke into her personal life whenever they want. It didn't help that she was involved in a scandal when she was only 14 years old.
It was only after seven years when she decided to share her story, and she did it during International Women's Day. She wrote a long post detailing why she had nude photos going around the Internet, and said that she's done bing shamed or belittled because of them. She made a mistake in sending nude photos and videos to her boyfriend at that time, believing that since she'd known him for so many years, he would be decent enough to just keep them private, as she was exploring her sexuality. Unfortunately, he shared them with everyone, and they all made her feel ashamed. Now, she has forgiven herself for that juvenile mistake and felt freed by talking about it.
Jack Galinsky "Her First Celebrity Boyfriend" (2015)
After her less-than-private photo scandal, she found solace in the arms of Jack Galinsky. They met through mutual friends during one of the parties hosted by internet star Nash Grier in April 2015.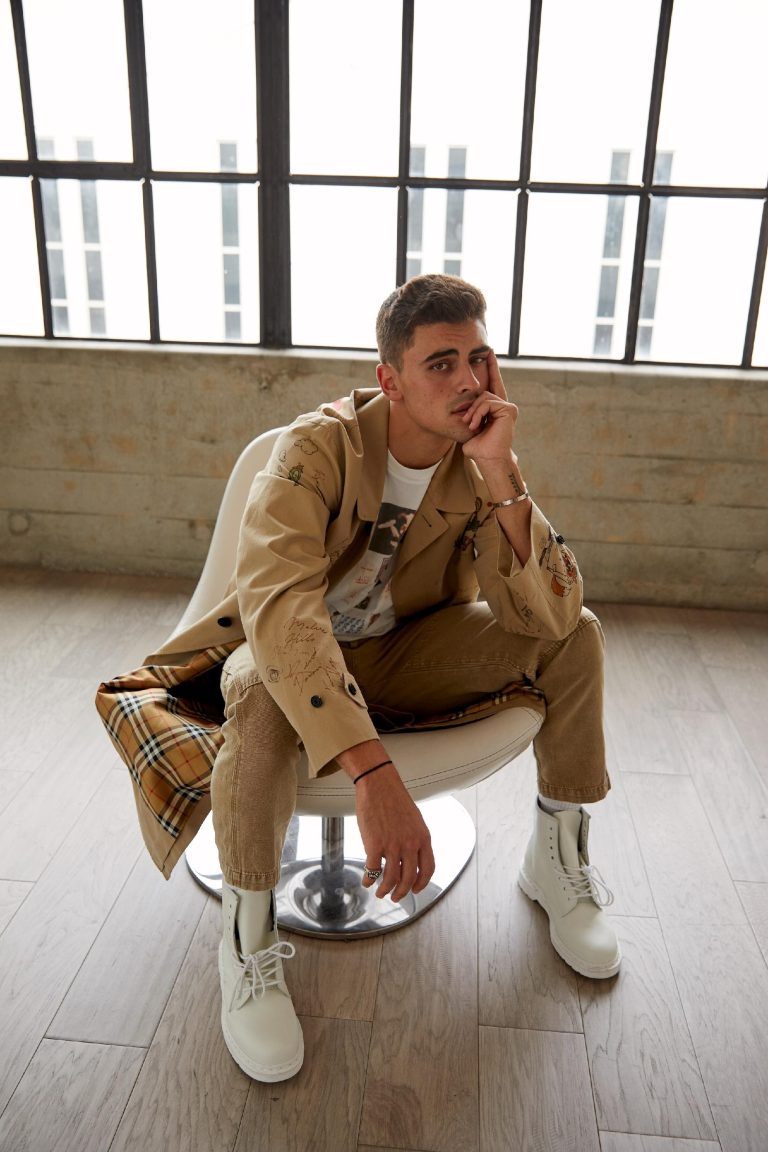 They had a lot of things in common, as both of them enjoyed Internet success before transitioning to professional musicians. Jack was part of the pop-rap duo sensation called Jack & Jack, with Jack Johnson, and became huge via the social media app, Vine. The duo even had the single Wild Life" enter the Billboard Hot 100 chart, peaking at No.87.
Madison was 15 and Jack was 18 when they started to date. The couple was happy for two years, and then they broke-up in 2017. Initially, fans thought they parted amicably, but in July of that year, someone leaked an audio recording in which it could be heard that he was verbally abusing her, calling her all kinds of vile names which were utterly degrading. It was revealed later on that it wasn't the first time he'd done that to her, and fans were confused as to why Madison chose to stay with him. She addressed the issue later on, saying that she stayed because she believed that she could fix him.
Jack confirmed what Madison shared on social media, saying that he was thankful for her patience, and that the recording clip was from a year before they broke-up when he was still in a very dark place. He also said that if it weren't for Madison, no one would help him overcome his problems.
Brooklyn Joseph Beckham "Sealed with a Kiss" (2017)
Just after that break-up, Madison met Brooklyn Joseph Beckham. Tongues started wagging, because being associated with the eldest child of soccer superstar David Beckham and fashion icon Victoria Beckham would guarantee a spot in the news.
At first, not everyone believed it, since there wasn't any proof about them being a couple. In this era, Instagram is King, so any rumored dating news would remain plain rumor unless a photo of them getting cozy was uploaded onto the social media app for it to be taken seriously. Fans were still holding on to the Brooklyn Beckham and Chloe Grace Moretz reconciliation, however, it seemed that Brooklyn has finally moved on to a new love interest.
In July 2017, the "Dead" singer-songwriter was spotted with Brooklyn shopping at one of the stores at The Grove shopping mall in Los Angeles.
It wouldn't have been a big deal since people do hang out together platonically, but then Brooklyn was captured kissing Madison and that, for many people, was a clear indication that they were indeed an item. The two went on to have dinner with his famous Mama, Victoria, at one of the favorite celebrity hotspots in West Hollywood called CATCH LA. The budding photographer/filmmaker even took videos outside the restaurant, before they joined his mother's table with her friends. Social media went ablaze, and people were reposting photos which they all agreed was an official way of coming out publicly as a couple.
It wasn't the first time Madison and Brooklyn were photographed together. Back in June 2017 at The Ivy Soho Brasserie in London, she hosted a Wonderland dinner, and he attended the event. No one really thought anything of it since they were photographed with the Wonderland founder, Huw Gwyther. It wasn't the last time they were spotted hanging out, and fans believed they dated for almost a year. She confirmed it through a July AOL interview, and said that they liked each other a lot and further elaborated, 'He's great, he's a cutie, he's one of my best friends. We hang out almost every day.'
However, they called it quits before Brooklyn left for New York, agreeing that it would be best for them just to remain friends, since Madison said that she couldn't do a long-distance love affair, especially with 3,000 miles or 5,000kms between them. She was being practical, as she didn't believe that it could work with her being busy working on her album in Los Angeles, while he focused on his classes as he pursued a degree in film and photography. If reports were to be believed, it didn't take long for Brooklyn to reunite with his former flame, Chloe Grace Moretz, when he returned to New York.
Zack Bia (2017 – 2019)
Madison met Zack Bia in late 2017, months after her ex-boyfriend Brooklyn left Los Angeles. They reportedly had an on-and-off relationship that lasted for a year or so before finally deciding to end it by March 2019. It didn't end well, based on the cryptic posts Madison shared on her Instagram account at that time.
When news came out that she was dating Zack, a lot of people didn't know the guy, except that they would see him in photos with some of the A-listers in Hollywood, including Drake, The Weeknd, the Hadid girls, and the Kardashian-Jenner girls.
He's a DJ and right-hand man of John Terzian, the founder and owner of H.Wood Group, a lifestyle and hospitality company that owns high-end clubs and restaurants in Los Angeles including Delilah, Poppy, The Peppermint Club, and Bootsy Bellows.
Fans were fascinated with the couple, as many followed their accounts on social media just to be updated on what's happening with them. They looked great together, and Madison's fans thought that this would last longer than the others, but their fights and reconciliations were highly documented.  When it was reported that they parted ways, fans thought that it was just one of those cooling-off periods. One couldn't blame fans, since they probably remembered what happened during the summer of 2018, when the couple had a huge and loud argument outside the popular restaurant and lounge, "The Nice Guy" – somebody took a video of the fight, and shared it online. They called it quits back then, but by December they were together again, as if the explosive argument never happened.
In March 2019, Madison ranted on Twitter, and the fans believed it was about Zack. She begged her followers to always listen to their hearts, further tweeting 'Before you diagnose yourself with depression and anxiety, make sure you're not just surrounded by ass— and people who don't care about you.' The last time the couple was seen together was in Paris, when they attended Fashion Week in January. Madison and Zack were invited to the Off-White show, where they were spotted sitting in the front row. The breakup was confirmed by Madison through a tweet, 'single Madison thrives.'
Blake Griffin
The best way to deal with heartbreak is to be patient, according to Madison, when a fan asked her on Twitter. It seemed that she followed her own advice, and took her own sweet time before she went back on the dating scene. In the past, she would quickly date again a few weeks after a break-up, but this time it took her about four months. In June 2019, Madison was spotted having dinner with basketball player Blake Griffin at Craig's Restaurant in West Hollywood. Most of the media reporters said that she was glowing that night, and had fun with her date.
At the time they met, Blake Griffin was on the player roster of the Detroit Pistons as the team's power forward. He was always in the news, not because of his playing stats, but because he dated Kendall Jenner which had lasted for a year in 2017. He also has two kids with a former fiancée.
Apparently, Madison met Blake through her ex-boyfriend Zack Bia – they have the same circle of friends. After the dinner date, they were seen hanging out one weekend at The Hamptons, and she stayed with him at a house he rented for them in Long Island. They were also spotted having fun at The Surf Lodge in Montauk, however, nothing serious really came out of it, since Blake was spotted dating another woman, the swimsuit designer, Francesca Aiello.
In March 2020, Madison confirmed through the TikTok app that she's bisexual. She'd already come out in 2016, even sharing that she was once in love with a woman. Interestingly, while she's confessed that she's also into women, she's never been in a public relationship with one. Of course privately, things may have been very different, but when and for how long would be up for debate!