Who has Michael Fassbender dated? Dating history since youth
• Michael Fassbender is an Irish-German actor who worked as a postman and bartender before becoming famous.
• He has had several relationships, including with actress and model Leasi Andrews whom he had a violent altercation with.
• His relationships usually consist of co-stars and dark-toned ladies.
• He is now married to actress Alicia Vikander, with whom he eloped in 2017.
• The couple have yet to start a family.
Irish-German actor Michael Fassbender, may have become one of Ireland's most successful and adored actors, but his rise to fame hasn't been a quick nor easy journey. Today he is ranked ninth in The Irish Times list of greatest Irish film actors, but before gaining mainstream recognition in the world of entertainment, the 43-year-old 'X-Men' actor worked as a postman and a bartender to make ends meet.
Michael was born on 2 April 1977 in Heidelberg, Baden-Wurttemberg, then West Germany. At the age of 19, Michael moved from Ireland to London to study acting at the Drama Centre London after deciding to pursue a career as an actor, haven fallen in love with the art in high school. However, his search for fame wasn't the easiest, as he landed his first role in Steven Spielberg's 'Band of Brothers' only by 2001, nearly two years after finishing his studies.
His actual rise to fame came only in 2006, after starring in the commercially successful film '300' alongside Gerard Butler. The rest, as they say, is history, but as interesting as his award-winning career that Fassbender could be proud of, is his wild, and at times, controversial dating history.
Michael, with his rough but handsome Irish bad boy persona, has certainly enjoyed plenty of attention from the fairer sex and despite now being married and settled down, had a few romances in the past that raised the eyebrows of many gossip tabloids and perhaps even the public. Although not entirely as promiscuous as most celebrity love lives, it hasn't been without its fair share of dramas and upsets. Of course, to uncover and relive all the excitement, one would have to dig in as far back as Fassbender's first public relationship, that forgotten ever-so-upsetting romance he had with Sunawin 'Leasi' Andrews.
Some do consider it the lowest point in Michael's life, mostly because he was just rising to fame, and his behaviour at the time was questionable to say the very least. However, Michael has recovered from the incidents and is presumably living a more innocent life, likely taking out all his frustration and investing extra energy into his auto racing career.
Yet, as many would wonder, precisely how many lucky ladies have fallen for his Irish charm?
Back in 2008, Michael began dating actress and model Leasi Andrews. Although everything seemed rosy on the surface, it became apparent that their relationship was not as kind and friendly as a Disney fairy tale, as allegations of abuse surfaced. After two occasions of violent outbursts, that allegedly happened in 2009 and 2010, Leasi filed charges of domestic violence against Fassbender. During the #MeToo movement, these allegations resurfaced, but despite the attention it gained in the media, Michael came off unharmed, and at the time the charges were petitioned against him, Fassbender also got off easy.
However, Michael never denied these claims of abuse, and in a later interview, Andrews said that the tabloids have the paperwork and there is nothing more to add to it. At the time Leasi filed the charges and petitioned for a restraining order, Michael wasn't available for comment. Leasi withdrew the charges for unstated reasons in 2010, but a close source said that she didn't want to damage his blossoming career.
The occasions mentioned in the paperwork went into detail of how Andrews described the two events that unfolded. The first was during a dinner date with friends, and after one of her ex-boyfriends came over to say hello, Fassbender lost his temper and went into a raging fit that continued even after they entered the car to drive home. Leasi claimed that he screamed at her and that he was driving recklessly. She managed to get the car to stop, got out and tried to get the keys out of the ignition.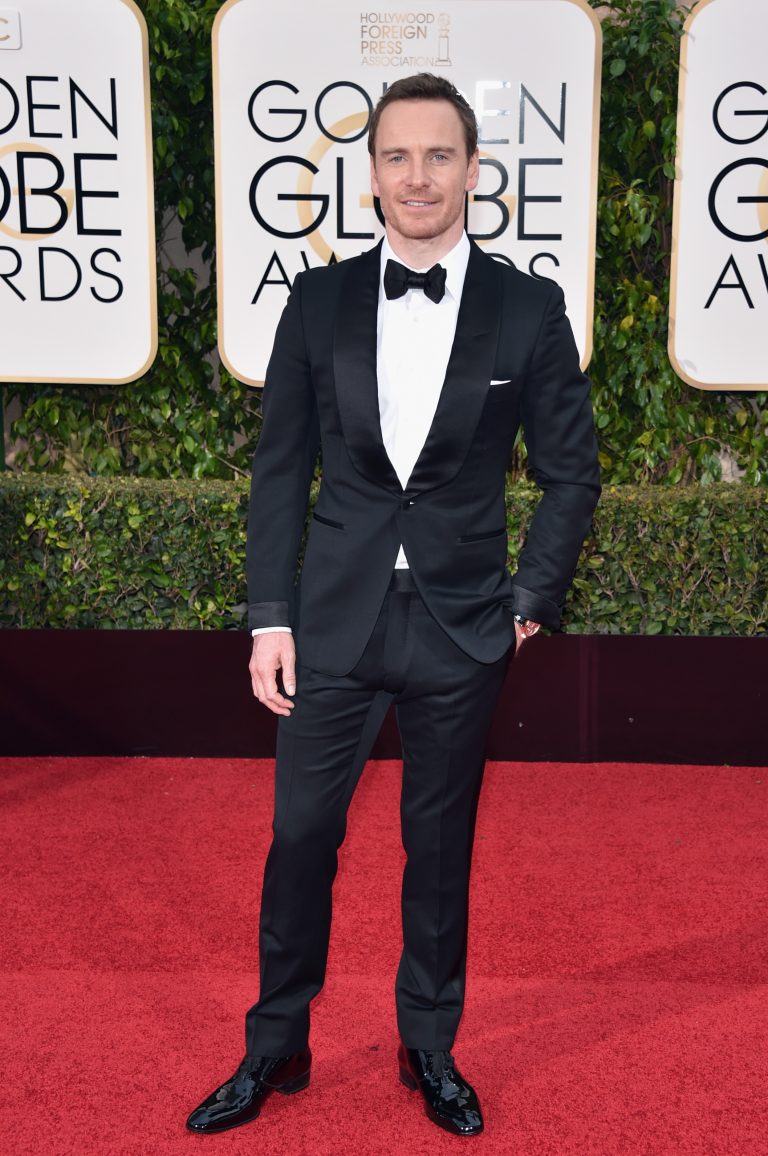 Fassbender then decided to continue driving and ended up pulling her along.
Andrews said that she suffered severe injuries that included a twisted left ankle, a blown-out knee cap, as well as a burst ovarian cyst which resulted in a $24,000 medical bill. Their companions that night later said that they knew the couple had an argument but didn't witness anything Fassbender did. Michael's parents denied these claims publicly, while Fassbender remained quiet about it.
The second occasion of alleged abuse that Leasi filed for happened after Michael enjoyed a night out late after a film festival. She said that she found the actor the next morning sleeping in a pool of his urine, and when she tried to wake him up, he threw her over a chair. The incident left her with a broken nose and was possibly the last straw.
However, in a peculiar twist of events, surprising considering the history between the two, Fassbender reunited with his ex-girlfriend in 2012.
While getting a couple of drinks with his co-star and good friend, Gerard Butler, Michael was spotted getting heavy with Andrews in a display of public affection at the Writers Room in Los Angeles.
The two later left together for the Sunset Marquis Hotel where things likely escalated. Andrews left the hotel late afternoon wearing slippers, and although neither one was available for comment, it is rather obvious what happened. By the looks of things, the couple had buried the hatchet, but didn't rekindle the relationship.
Two things in Michael's dating history stand out in particular when assessing the similarities between his love interests, and these are that they are likely to have been his co-star at some point, and that they are dark-toned ladies. By dark, it doesn't mean personality, but rather that the lovely ladies out there with smooth, tan skin, dark features and beautiful brown eyes.
#ThrowbackThursday
Michael Fassbender in 2014 or 2015, when he let his wonderful ginger beard grow longer. Gorgeous.#MichaelFassbender #beard #ginger #TbT pic.twitter.com/ayuiQEeJBQ

— M Fassbender | MFO (@MFOnline) September 3, 2020
It seems the one thing that melts this native Irish boy's heart is a dark complexion. As proof, Michael dated Zoe Kravitz for nearly a year – they met on the set of 'X-Men: First Class', with him portraying the role of Eric, or as most would know him, Magneto, while Zoe played the role of Angel Salvadore. The daughter of Lenny Kravitz and actress Lisa Bonet, not only is Zoe a breathtaking dark beauty, but she was also Fassbender's co-star.
Michael and Zoe dated for some time after the filming of 'First Class', but it all ended for the two love birds, before the relationship reached its first anniversary. Most of the romantic details were kept private, and it seemed that Fassbender behaved much better this time around. Zoe didn't report any abuse during their time together; however, neither was any reason given for their break-up. It seems that the separation was on friendly terms, as the couple were later spotted together several times.
Zoe even shared a few Instagram posts in which she poses with her ex-boyfriend, making it seem that the breakup had not been too severe on them.
Shortly following his romance with Kravitz, Michael began dating his 'Shame' co-star actress Nicole Beharie, yet another dark and lovely lady. Although Fassbender admitted to GQ Magazine that they only started dating after the production of the film was completed, it was clear to see that the chemistry was strong between them even while filming.
In the movie, Fassbender plays the role of a sex-addicted office worker who falls in love with a colleague, played by Nicole. In the interview with GQ, Fassbender went on to talk at length about his role in the relationship, claiming that he would often cook if she had friends over, but also explaining the difficulty of maintaining a long-distance relationship.
At that time in 2012, Michael was living in England and Nicole in New York, and it doesn't seem as if the romance was able to conquer the distance. However, the role Michael described playing in the relationship is the exact opposite picture painted of him by his ex-lover, Leasi, but perhaps proof that people can change. In 2013 the couple called it quits and parted ways.
Later in 2013, Michael had a short fling with English track star, Louise Hazel. They only dated for a short while, but according to the reality-TV star of 'The Jump', they are still good friends. Most of their fling remained a private affair, so only speculation exists about what happened between them and why things never got to a fixed point. Although she was not a co-star of his, Hazel remained true to Fassbender preference, being yet another dark beauty.
Still in 2013 and following his short fling with Hazel, Fassbender hooked up with Romanian model and actress, Madalina Diana Ghenea, who although not as dark as his previous love interests, is a dark-haired and brown-eyed delight in her own right. Their relationship only lasted for a short time before things ended. The most controversial part of the romance was that she was the former lover of his good friend, Scottish actor, Gerard. They were seen together on vacation in Milan, which sparked the rumours that something was brewing.
Other rumours and possible hook-ups that Fassbender might have involved himself with, include an encounter in 2013 with his co-star in '12 Years a Slave', Kenyan actress Lupita Nyong'o. Although unconfirmed, Lupito and Fassbender's chemistry on the set of '12 Years A Slave' is undeniable. It was likely also the reason behind rumours that they might be dating, and perhaps it may also have been contributed to by Fassbender's past pattern of dating co-stars.
Whatever was the case, a relationship between the two was never made official, and may as well be nothing more than speculation.
In 2014, Michael had dinner with English supermodel Naomi Campbell, making the gossip pages flood with suggestions that the pair was hooking-up. They were not shy of being seen together in public, and witnesses said that they were openly affectionate with each other. On the other hand, close friends of the model had their doubts. According to them, Naomi has a lot of rich and influential men always courting her, but anything developing into something serious is yet to be seen.
As it turned out, Naomi's friends were right to have their doubts. The relationship did not turn into anything serious, as Michael soon after started dating Swedish actress Alicia Vikander.
Michael and his long-term girlfriend, award-winning actress Alicia Vikander, widely regarded as the most relaxed celebrity couple walking the red carpet, secretly eloped to Ibiza, Spain on 14 October 2017, and have been inseparable since. Just when it seemed that The Fass was never going to settle down, his romancing of 'The Light Between Oceans' co-star reached the point of no return. They hooked up after completing the filming of their celebrated film in 2014, and have become star figures of relationship goals in the world of ebtertainment.
From their reluctance to use their relationship for personal gain, to never tipping-off gossip police on their rendezvous, and the immense support and praise they have for each other, Alicia and Michael set an example that leaves fans dreaming, and haters green with jealousy.
The way things seem to be after five years together and three years in matrimony, it couldn't be any better.
Despite keeping their relationship under tight secrecy, Alicia has revealed that she could not be any happier or more content than she is with Fassbender. Vikander also spoke about how her bachelorette party took her by surprise, as she was abducted for the event. The wedding ceremony took place at the La Granja Resort, which only friends and family attended.
The only question people are asking now is when the firstborn is due. Since Alicia had admitted that she is looking forward to starting a family of her own, long before she even met Michael, it is only natural to wonder the same thing. Although both actors are busy, their fans are hoping it would be soon, and no doubt how Michael will handle that situation, given his somewhat turbulent past.