Who has Millie Bobby Brown dated? Dating History Since Youth
• Millie Bobby Brown is a young successful actress best known for her role as Eleven in the series Stranger Things.
• Millie has been romantically linked to four young men, including Jacob Sartorius, Romeo Beckham and Joseph Robinson.
• She and Jacob Sartorius were cutely flirting over social media and even celebrated New Year's Eve together with her family.
• She and Joseph Robinson were romantically involved but their relationship lasted only 10 months.
• She is very close to her Stranger Things co-star Finn Wolfhard and rumors have been circulating that they are more than friends.
Millie Bobby Brown was born in Marbella, Spain to British parents on 19 February 2004. She represents one of the most successful young teenage actresses, who came to prominence with the role of Eleven in the sci-fi web series "Stranger Things", which has been broadcast on Netflix since 2016. The role of Lucky Number Eleven also led her to become one of the youngest nominees in the history of Primetime Emmy Awards, since she received a nomination in the category for Outstanding Supporting Actress in a Drama Series at the age of 13. She is also the youngest person to be featured on the annual list of the 100 most influential people in the world by Time magazine, and the youngest person to be named a UNICEF Goodwill Ambassador. Quite pretty impressive for such a young lady!
Her amazing accomplishments already in the world of acting have helped her to stand out among many other celebrity teenagers, which has caused enormous media interest not only in her professional but also private life. It's gained her the adoration of many fans, and also caught the eye of quite a few handsome young men! The young actress has been romantically linked to four guys, possibly more! We've dug deeper into her personal life and found all the details that might interest you! So, keep listening for everything you want to know about Millie's dating history.
The curiosity about Millie Booby Brown's love life has grown with her popularity, especially when at the age of 13 she started flirting over social media with young Vine star and pop singer Jacob Sartorius, in October 2017. Their fans were the first to notice that something was going on between them.
According to Teen Vogue magazine, the young singer left cute comments on some of her posts on Instagram and Twitter. She also shared their selfie with love hearts emoji on her Instagram story on New Year's Eve 2017, which they celebrated together with her family at Walt Disney World in Orlando, Florida. Shortly afterwards, he tweeted about a crush, writing "just another day w you on my mind", which she liked – it was apparently dedicated to her. Several days later, he also tweeted, "i think about the future a lot better w you in it." In no time, she shared a photo of herself posing with a teddy bear gift with the caption "Thanks for the bear", on which he replied "Of course".
On Valentine's Day of the following year, they exchanged cute wishes to each other. Jacob posted on Instagram story on their photo. writin, "Happy valentine's day to this beautiful girl… I miss eating chick fil a with you every day," while Millie posted a photo of them cuddling up and wrote, "Happy Valentine's day J" and a heart emoji.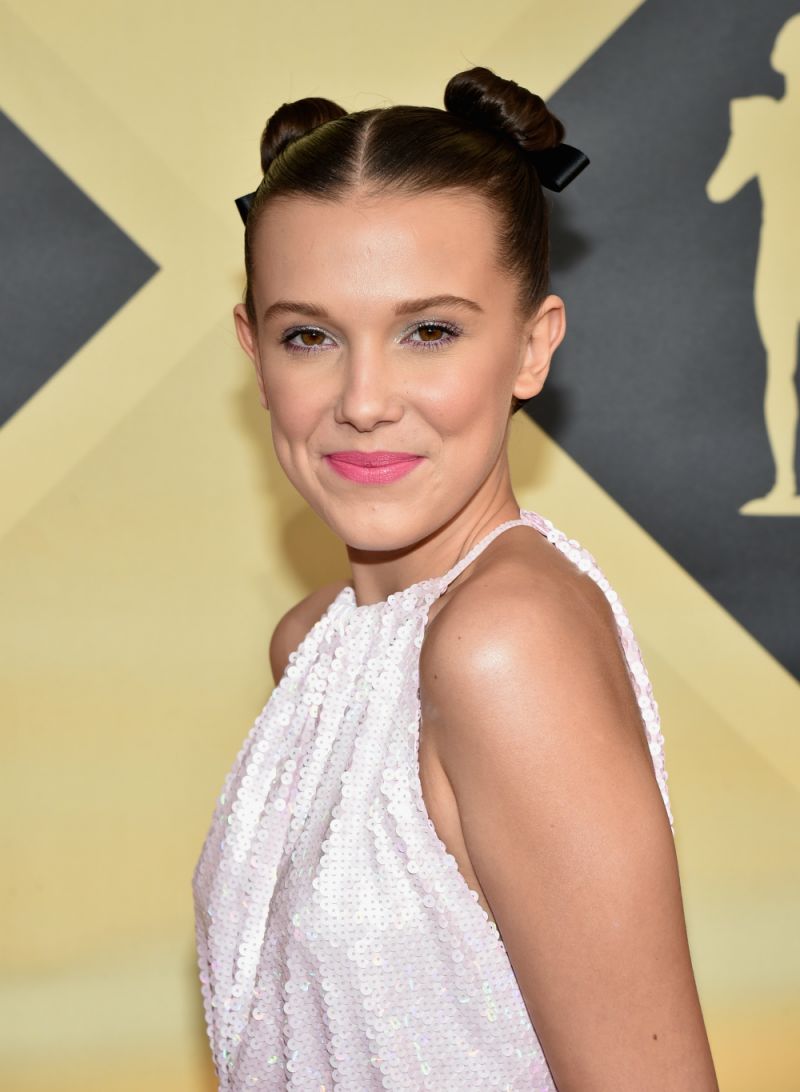 According to US Weekly magazine, he soon declared his love in a post for her birthday, writing "Happy birthday to this beautiful girl, 14!! you're the funniest, most caring person in the entire world. I hope this year brings you lots of great memories and moments you remember forever. Can't wait to see you, I love you and miss you so much!!" Moreover, a source revealed to the magazine that the pair fell in love when they started spending a lot of time together. Although they never officially said in public they were together, it was more than obvious!
After dating for more than seven months, the couple parted ways in July 2018. According to People magazine, the beautiful actress confirmed their breakup through her Instagram story, writing that they remained on good terms – "The decision with Jacob and I was completely mutual. We are both happy and remaining friends."
The young pop star wrote a similar statement his Instagram – "The decision w mills was completely mutual & we are both happy and remaining friends," he wrote. The main reason for their split wasn't revealed.
Following the break-up, Millie found solace in pursuing further her professional acting career. To the delight of their fans, it was speculated that the couple renewed their romance after Jacob confirmed that he had a secret love in December 2018. The reasons for that were their liking each other's photos, leaving comments, and even wearing each other's clothes. Moreover, one of their fans claimed that they were spotted holding hands in New York City. However, that wasn't confirmed.
Millie Bobby Brown met Romeo Beckham at a charity UNICEF's 70th anniversary event when she served as a co-host and interviewed his father, David Beckham, in December 2016.
She then hugged the legendary soccer player, and posted their photo on Instagram with the caption, "Thank you @davidbeckham and #audreyhepburn for inspiring me to use my voice and platform for good. Tonight was incredible. Thank you unicef for having me as the host of your youth takeover. I will remember this evening for the rest of my life. Love and light."
Moreover, after being asked about her hopes for her character Eleven in "Stranger Things", she replied that she didn't know what she wanted, but eventually said, "Something with Romeo Beckham." They then became close friends, and their interaction on Instagram set off dating rumors. In March 2019, The Sun magazine reported that Millie started her romance with Romeo, and that his mother, Victoria Beckham, adored her and approved the choice of her son. A source told the magazine, "It's early days but they make a very sweet couple. Victoria Beckham has given it the seal of approval as she's a big fan of Millie's." However, the rumors were never confirmed.   Have
In January 2020, Millie Bobby Brown was rumored to become romantically involved in a relationship with English rugby player Joseph Robinson, the son of England Rugby World Cup legend Jason Robinson. The beautiful actress confirmed their romance by posting their mirror selfie on Snapchat, and writing in the caption "Ly x", which stands for "Love you". According to The Hollywood Life magazine, they met each other during her vacation in the Maldives in November 2019, and put a spell on each other. He would later share their photo from the Maldives with other people, and wrote, "Great time in the Maldives with family and friends." The couple also spent Christmas together, enjoying each other's company and posting separate photos of them walking the same dogs on their social media accounts.
Furthermore, the "Stranger Things" star also uploaded a photo of herself wearing the jersey of his father's rugby team, which went viral.
The two obviously fell madly in love with each other, but their relationship was ended ten months later apparently because they were very busy with their careers, and couldn't divide their time between the UK where Joseph pursues his professional career as a rugby player, and the US where Millie is building her acting career. In August 2020, The Sun magazine confirmed their split, with a source explaining to the magazine that the distance was one of the main reasons for that – "They were very full on and happy to show it on social media, but it seems as though things have just run their course," and adding, "Time apart has obviously been challenging. They're both flying in their careers at the moment. It just wasn't the time for them to have a romance." The source continued, "Of course they're both still very young, so no doubt there's lots ahead for both of them." They also disconnected from each other on social media, which could mean that they didn't remain on good terms. We hope that it will change, and that at least remain friends!
The hit series "Stranger Thing" not only brought Millie immense popularity all over the world, but also many acquaintances and friendships with her co-stars, including the handsome rising actor Finn Wolfhard. They met each other on the set, with their characters romantically linked in the show. In no time, their on-screen romance earned them the title of the most adorable couple. Besides that, Millie and Finn became close friends in real life. According to E! News magazine, she once revealed that their kissing scene has never been awkward, saying "It's relatively easy, I think. It's our jobs. It's in the scripts and we feel comfortable with each other, we feel trusted, we're in a safe environment, so it's relatively easy. I think people hype it up to be awkward, more awkward than it is, but it's just like your friend, so it's chill."
They have been spotted having fun and enjoying each other's company on many different occasions, including at various red carpet events, and shared their photos across social media platforms.
According to Insider magazine, the two of them sparked the rumors that they made their on-screen relationship a reality, after his co-star Noah Schnapp tagged them in the comment under an Instagram post with the caption, "Tag two people that want to hook up with each other to make things awkward." This happened in March 2020, when the young actress was still supposedly dating rugby player Joseph Robinson.
Even though the real-life romance between her and Finn was impossible at the time, many fans got excited about the possiblity since Noah's comment has been linked more than 8,000 times. His comment produced a number of responses, such as "OMG!", "I agree with Noah, he is not wrong", and "Oh but so much, in reality they would go too well together." However, neither of them have responded to his comment, but nor denied those rumors.
According to E! News magazine, there are a lot of rumors that the two of them became very close in recent months. Furthermore, she spent her vacation with him and his family in The Maldives in November 2019. So, Noah's comment was just a joke? After all, there is always a little truth behind every joke!
Relationship with Noah Schnapp – Friends or More than Friends?
Following the rumors that she was in a relationship with Finn Wolfhard, there were also rumors that Millie Bobby Brown might be dating her "Stranger Things" co-star Noah Schnapp. It seems that they are very close, as they also have cute nicknames for each other – Millie called him Schnipper, while he calls her Millster. However, neither of them have confirmed anything romantic, although they seem to be inseparable friends.
Anyway, the young lady recently broke up with Joseph Robinson, and so is single at the moment, so it remains to be seen what happens in the future!