Who has Nicole Mitchell Murphy dated? Dating History
• Nicole Ronette Mitchell Murphy is a model, actress, and celebrity ex-wife of Eddie Murphy.
• She is a fitness guru, reality TV star, and appeared in 'Hollywood Exes' and 'Global Beauty Masters'.
• She and Eddie have five children and were married for 13 years.  
• She has been rumored to have had adulterous affairs with Michael Jordan, the prime minister of Turks and Caicos, Michael Strahan, Jimmy Jackson, and Nick Cannon.
• She is now focusing on being a grandmother and providing her grandchildren with motherly love.
American model, actress, and celebrity wife, Nicole Ronette Mitchell Murphy, is perhaps best known as the ex-wife of comedian Eddie Murphy, but since her divorce has been gaining a reputation as a homewrecker. Nicole's ageless beauty afforded her a lucrative career as a catwalk model in the eighties, and certainly gained her the attention of many celebrity men. Even after having five children with her ex-husband, the retired model is still able to maintain her seductive figure, and certainly doesn't look like your average grandmother.
Nicole is known for being a fitness guru, dedicated to preserving her charms, and is also a reality TV star, who appeared in 'Hollywood Exes' as well as 'Global Beauty Masters'.
The 52-year old mother of five has been separated from Eddie for nearly fifteen years, almost as long as she had been married to the successful comedian and actor, and although both of them has moved on with their lives and found new partners, they have remained on friendly terms for the sake of their family.
Their marriage had been one of Hollywood's most expensive, and at the time they were among the most adored couples on the red carpet. However, despite her good relations with Murphy, Nicole has not been afraid of causing upsets and creating scandals which, according to some reports, had been a concern for her ex-husband. They may have been the glam world's leading example of good parenting despite a separation, but Eddie made claims that Nicole's behaviour has negatively affected both their public image and their family.
This followed, of course, after rumours surfaced which suggested that Nicole had been involved in several adulterous affairs. In truth, Eddie's reaction seems ironic, since he himself has a reputation for being promiscuous, and involved in possible adultery. How true all of the rumors are remains to be confirmed, but in spite of all her romantic endeavours, most people will still consider Eddie Murphy as both the best and worst thing to ever happen to her.
Nicole met Eddie at the 1988 NAACP Image Awards Show, where she undoubtedly bedazzled the comedian with her feminine charms. However, at the time Eddie was a rising star and stand-up comedian, who had been involved with other women. In the mid-eighties, it was rumoured that he was involved with Whitney Houston, but their relationship was never confirmed.
Eddie seemed to have moved in on Nicole, but the relationship hadn't been of a very serious nature.
Then in 1989, Nicole gave birth to Eddie's oldest daughter, Bria, but in July that same year, another of Eddie's girlfriends, Paulette McNeely, gave birth to his oldest son, Eric.  A year later the comedian connected with Tamara Hood, who gave birth to Eddie's third child and second son, Christian, in November 1990.
Despite the promiscuous reputation that Murphy had made for himself, Nicole still decided to marry the man, and they tie the knot in 1993 – in 1991, Nicole had moved in with Eddie and they would live together for two years following Murphy's fathering spree. During this time, it seemed as if Eddie's lustful, adventurous behaviour had died down, and he appeared to be faithful to his partner.
Their wedding ceremony would become one of the most expensive in Hollywood, and was the talk of Tinsel Town for some time.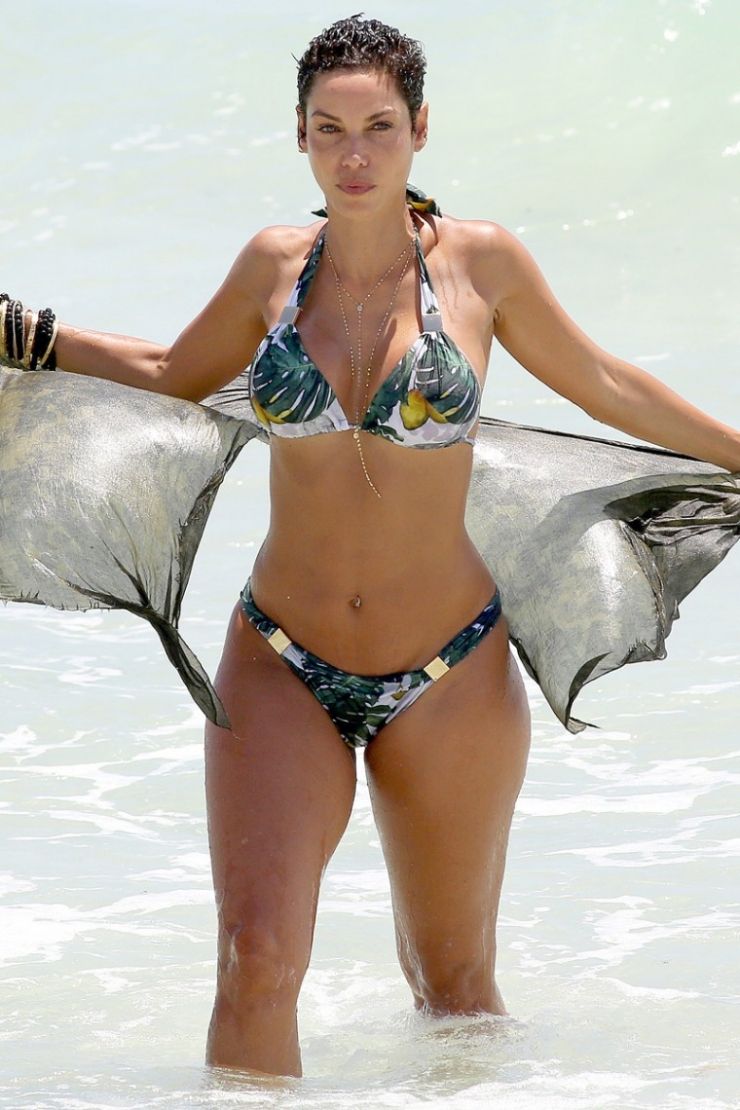 Eddie spared no expenses to impress his soon bride-to-be; everything from the dress to the cake and even the venue was a luxurious extravagance. The short ceremony, that only lasted sixteen minutes, was held in New York, at the Grand Ballroom and the Plaza Hotel on 18 March.
Nicole walked down the aisle serenaded by Eddie's song, 'Don't Give Up On Love', which he recorded on his album 'Love's Alright'. Her dress was an exquisite creation made from white silk, satin, with French Alencon lace and rosettes. Her veil and incredibly long train featured Bulgarian embroidery, decorated with expensive Austrian pearls and crystals.
The ceremony was held in front of 500 guests, and in true Eddie Murphy fashion, when asked if there were any objections from the witnesses, he glared over the audience much to the laughter of the people.
After exchanging rings and vows, they left the ceremony as Whitney Houston's 'I am Every Women' played in the background. Bria, who was four years old when her parents married, was a flower girl at the wedding. Their memorable day is estimated to have cost anything up to $1.5 million, with the wedding cake alone costing about $25,000.
For a time everything seemed rosy and fair between the newly-weds, especially after they celebrated their first anniversary with a stylish visit to Jamaica. In November 1993, only a few months after their marriage, Nicole gave birth to their son they named Myles, Eddie's fourth child and second son. As time passed and their relationship remained stable, Nicole produced their third child in October 1994, Eddie's third daughter, Shayne Audra.
However, in 1997 it appeared that Eddie had been unfaithful to his wife, when in bizarre circumstances Eddie's scandalous behaviour and after-hour activities were made public.
He was pulled over by police in West Hollywood, and found in the company of a transgender female who had been under suspicion for prostitution. Murphy was released free of any charges, as officers were unable to incriminate him, but his companion at the time was arrested on an outstanding warrant.
Eddie later claimed that he was simply giving her a ride home, but the media didn't buy that one, although luckily for him, Nicole found it possible to forgive him, and didn't file for divorce. Instead, they would remain together for years to come, and gave birth to two more children, namely Zola Ivy and Bella Zahra.
Sadly though, their divorce was inevitable, and in 2006, Murphy announced that they were separating. In a statement released by his representative, Eddie assured everyone that his children would remain the priority in his life and that their welfare would be of the utmost importance.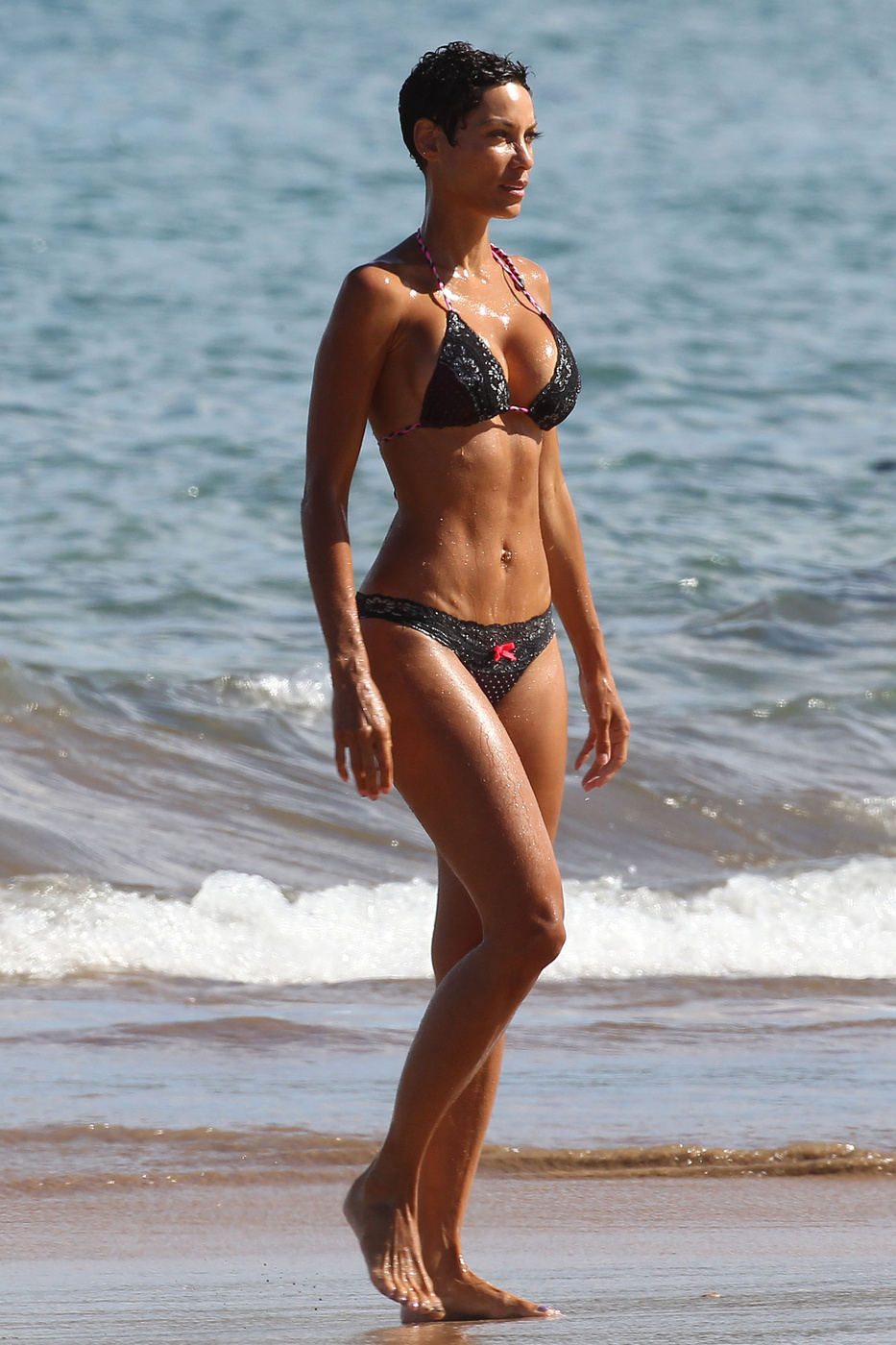 The reason for divorce was cited as irreconcilable differences – no other reason was given.
In the divorce settlement, Nicole was granted $15 million, finalized without any difficulties or delays. They were officially divorced on 17 April after being together for 17 years, of which they were married for 13.
Following the divorce, Nicole's life hasn't been the easiest. Despite the considerable sum from the divorce settlement, her finances took a turn for the worst. Not long after the separation from Eddie, a life-long friend, Troy Stratos, promised to help her invest her money, but swindled her out of $10 million, and the mortgages of both her and her mother's houses, which totalled another million dollars.
Troy was found guilty of fraud in 2016, but in the meantime, the mother of five was left stranded, trying to recover financially from her loss. In an attempt to restore things, Nicole started several business ventures, which included a beauty product line and fashion jewellery.
However, while in the midst of a financial struggle, the former model still had the time to find romantic interests. In 2007, Nicole was spotted on vacation with basketball all-star, Michael Jordan, in Los Cabos, Mexico; like Nicole, Jordan had recently divorced from his wife, Juanita Vanoy. After pictures of Jordan and Mitchell were made public, the media raised questions on whether they might be seeing each other. Michael's representatives stated that they do not speak about his personal life, and the two neither denied nor confirmed the status of their relationship.
Jordan has since married Cuban-American model Yvette Pietro, whom it was stated he met in 2007. Nicole was caught with the prime minister of Turks and Caicos, Michael Misick, later in 2007, who at the time was a married man. Misick's wife, actress LisaRaye McCoy publicly accused Nicole of having an affair with her husband, and also said that he cheated on her with several other celebrity women. McCoy's sister, Da Brat, would later confirm that the two did have a supposedly secret affair.
Although it is still being questioned, and considered by some to be false, reports that Nicole was later caught with another married man surfaced, which might reveal more about her than some would think. In 2008, Nicole started dating the host of 'The Good Morning America Show', Michael Strahan. It was reportedly her longest relationship since her marriage with Eddie Murphy turned sour. In 2009, Micheal Strahan proposed and things seemed to have a better lookout for Nicole following her financial strain, and the apparent scandal she was caught in.
However, in 2014 the engagement was called off – both parties said that they were cheated on, but there was only evidence of that supported Strahan's claims. During the course of their relationship, Nicole was spotted enjoying an intimate vacation with NBA all-star, Jimmy Jackson.
Photos were published showing Nicole and Jimmy snuggled up together on a beach in Puerto Rico, but following this apparently failed romance, Nicole was spotted later in 2015 with Nick Cannon.
After being seen together on several occasions in various locations, rumours that they were dating started going round, however, during a later interview, Nicole denied these claims and said that they were just friends. She was also associated with musician Drake at one point – following her appearance in a commercial for Drake's Virginia Black whiskey, rumours floated around that they might be dating.
Considering Drake's interest in older ladies, it would not have surprised anyone, and after he attended her fiftieth birthday, rumours really got heated. However, there was no confirmation, except that Nicole openly admitted that she would date Drake if the opportunity ever arose, but which never came; no confirmation about a relationship with Drake was ever announced, and seemingly they were only friends.
In July of 2019, Nicole was caught once more in an apparent scandal with a married man. While on vacation to Italy, photographers captured pictures of her kissing director Antoine Fuqua. Fuqua has been married to actress Lela Rochon for nearly twenty years, but this didn't seem to prevent intimacy between Nicole and Antoine. Fuqua and Rochon said their vows in 1999, but Roschon has since come forward with claims that he had cheated on her with several celebrity women, and publicly accused Nicole of being one of them.
Rochon's sister, Da Brat, later confirmed that Nicole and Antoine had had a secret affair, but in several interviews, Nicole continuously attempted to brush the scandal under the carpet, first by claiming it was a friendly hello kiss that she shared with him, then later admitted that she was told that Fuqua and Rochon were separated. The affair gained public notice really quickly, but taking to social media, Antoine accused Nicole of setting him up.
He said that the meeting was arranged, and that she called the paparazzi and told them to be on locale when they kissed. However, the media never believed either party's claims, and continued to spread rumours about their alleged affair.
At a later point, Eddie Murphy was also said to get involved in voicing his opinion. Allegedly the comedian claimed that he was embarrassed by his ex-wife's behaviour, and that she shamed both their public image and their family, telling the former model that she should publicly apologize for what she had done. In a later appearance on 'The Wendy Williams Show', Nicole admitted to the affair, saying that she should have known that it was wrong, and that it was something she regrets. She also publicly apologised to Rochon and her family.
Nicole has since then decided to turn her attention to being a good grandmother. Her and Eddie's son Myles Mitchell welcomed a daughter in the summer of 2019, who is known by the name Evie.