Who has Prince William dated? Girlfriends List, Dating History
• Prince William was born in London, England, in 1982
• He was romantically linked to several ladies before settling down with Kate Middleton
• He met Kate in 2001 when they were students at St Andrews
• They announced their engagement on 16 November 2010
• They have three children, Prince George, Princess Charlotte, and Prince Louis
The Handsome Prince
The handsome Prince William, also known as the Duke of Cambridge, was born William Arthur Philip Louis in London, England, on 21 June 1982 under the zodiac sign of Cancer. He is a member of the British royal family, known for being the older son of Charles, Prince of Wales, and Diana, Princess of Wales, and the older brother of Prince Harry, and so the second in line to the throne, after his father.
Although it seems that Prince William and Kate Middleton have always been together, that's not the case. Before he settled down with Kate, Prince William had been romantically linked to several beautiful ladies. Since there's always been a lot of curiosity about his past relationships, we compiled you what we believe to be a complete list of those ladies. So, just keep listening 'til the end and you are going to find out all the details!
In the summer 1999, it was reported that Prince William was romantically involved in a relationship with Davina Duckworth-Chat, the daughter of Norfolk landowner Old Etonian Anthony Duckworth-Chad. Her mother is Princess Diana's second cousin, while her brother James was the Queen's equerry.
Rumors that the two of them became an item started swirling around after Davina accompanied him on a cruise on the Aegean Sea. According to the Daily Mail magazine, Prince Charles and Camilla were also on board, which gave him "a perfect 'cover' for inviting lots of pretty girls on his 'love boat'."
Following their short fling, Prince William and Davina remain close family friends. Prince William even attended her wedding to baronet's son Tom Barker in 2004, alongside his younger brother, Prince Harry, while she was later invited to attend his royal wedding in 2011.
In early 2000, Prince William set off the rumors to have hooked up with Natalie Hicks-Lobbecke, the daughter of Major Martin Hicks-Lobbecke. They were spotted flirting at a charity polo match at Gloucestershire's Beaufort Club, however, William and Natalie both dismissed those rumors. Whatever really happened between the two of them, it remains a mystery.
Prince William and Rose Farquhar met each other at the Beaufort Polo Club in Gloucestershire. She is the daughter of Captain Ian Farquhar, master of the Beaufort Hunt. The two reportedly started dating in college back in 2000, and Rose was Prince William's first true love. However, their romance didn't last long since she decided to move to New York City to enrol in the prestigious Lee Strasberg Institute acting school, but William and Rose kept in touch and remained on good terms.
According to E! News magazine, one of their close friends revealed more details about their romance to Katie Nicholl for her 2011 book "The Making of a Royal Romance". The friend said, "William and Rose had a summer romance and she still refers to him as her first true love," continuing "It was a long, hot summer and William spent a lot of time at Highgrove, and Rose was always around…That summer they realized that they both actually rather liked each other and it was William who made the first move." The friend also added, "It was a very sweet and innocent love affair, and Rose still laughs about the time they got caught by a farmer in a field. They are still good friends and often speak."
According to Vanity Fair magazine, Prince William met Jessica 'Jecca' Craig for the first time back in 1998, during a school holiday in Kenya.
It was reported that the two dated briefly two years later – at the time, he enjoyed a gap year before continuing his education at St. Andrews University, and spent some time at her family's 55,000-acre ranch in Kenya.
Following their rumored relationship, Prince William and Jecca remained close friends – interestingly, he even proposed to Kate at her family's estate. Jecca attended their 2011 royal wedding, while he would later also attend her wedding ceremony in 2016.
Prince William and Arabella Musgrave have known each other since they were kids. Her father is Major Nicholas Musgrave, known for running Cirencester Park Polo Club. Royal biographer Katie Nicholl revealed more details about their romance in her 2010 book "William and Harry: Behind the Palace Walls," writing that Prince William fell in love with her in 2001, after meeting her at a friend's house party, and added, "Arabella had blossomed into a gorgeous-looking girl, and he wondered why he hadn't noticed her properly until now."
Nicholl also wrote, "It was the beginning of a passionate romance, and the two spent as much time together as possible that summer." She even became a part of William and Harry's inner circle, known by the name "Glosse Posse". That autumn William left England to attend the University of St. Andrews in Scotland. The Marie Claire reported that he "missed Arabella terribly and even considered dropping out of school to go be with her," but it didn't happen, and they decided to part their ways. Arabella Musgrave was also invited to his wedding to Kate Middleton.
During his first semester at St Andrews, Prince William apparently fell in love with a girl named Carly Massy-Birch, but they didn't last long as a couple. Carly's parent would later confirm their brief romance to Daily Mail magazine, saying, "She went out with William for six or seven weeks when they first arrived at St Andrews."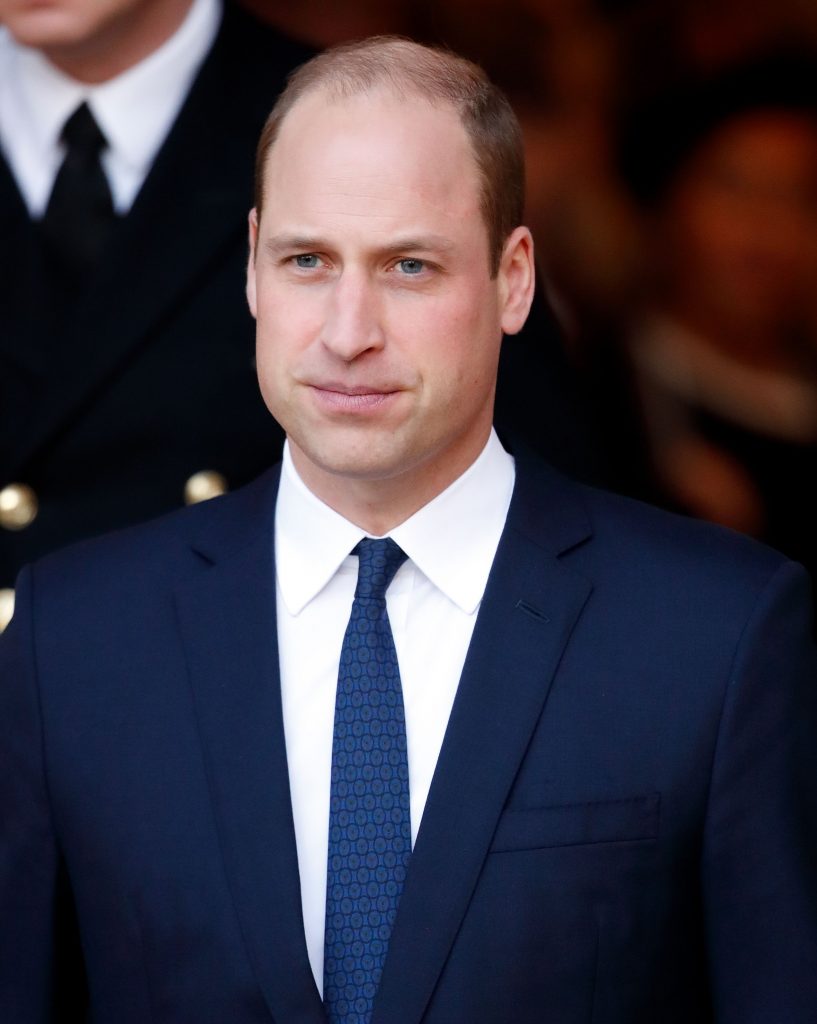 Carley opened up about their short love story to Vanity Fair magazine, saying "William was in the year below, and we just happened to meet through the general St. Andrews mêlée. It's such a small place that it was impossible not to bump into William, and after a while there was nothing weird about seeing him around," adding, "We got on well, but I think we would have got on well even if nothing had been going on romantically. It was very much a university thing, just a regular university romance."
Before he fell in love with Kate Middleton, Prince William were in a relationship with a girl, named Olivia Hunt. Their relationship lasted briefly also during his first year at St Andrews. According to Daily Mail magazine, a source said, "William was seeing Olivia when he met Kate, and when Kate came on the scene Olivia moved off pretty quickly." They are still pretty close friends.
Prince William met Catherine Elizabeth 'Kate' Middleton in 2001, when they were students at St Andrews. He would later recall that period of his life in their engagement interview with ABC News magazine – "When I first met Kate, I knew there was something very special about her. I knew there was possibly something that I wanted to explore there." He continued, "We ended up being friends for a while, and that just sort of was a good foundation. Because I do generally believe now that being friends with one another is a massive advantage. And it just went from there." Kate then added, "I actually think I went bright red when I met you and sort of scuttled off, feeling very shy. But we did become very close friends from quite early."
During their second year at St Andrews, they moved in together with two more friends, and in no time they started dating secretly, According to Marie Claire magazine, Katie Nicholls revealed in her 2011 book, "The Making of a Royal Romance", that their relationship surfaced when they played a game of "never have I ever" with Carly Massy-Birch in 2002. During the game, she said, "I've never dated two people in this room." William reportedly "shot a thunderous look, saying 'I can't believe you just said that'."
They continued dating and the first time they were spotted in public as a couple was during their ski trip in 2004. Three years later, they parted their ways for a short time in April 2007, when William was completing his military pilot training, while Kate was working in London.
He told ABC News magazine, "It was very much trying to find our own way, and we were growing up, and so it was just sort of a bit of space and a bit of things like that and it worked out for the better," while Kate said that it made her "a stronger person." Shortly afterwards, the two renewed their relationship, and Kate was spotted with him at the Concert for Diana in July 2007.
Prince William and Kate Middleton announced their engagement on 16 November 2010. William told ABC News magazine, "It was about three weeks ago on holiday in Kenya. We had a little private time away together with some friends, and I just decided that it was the right time really. We had been talking about marriage for a while so it wasn't a massively big surprise. I took her up somewhere nice in Kenya and I proposed." Kate described the proposal as "very romantic."
The Duchess of Cambridge speak at an online forum, delivering a keynote speech on her Early Years Initiative.
.
Very proud of her! ❤😭😍
.#katemiddleton #duchessofcambridge pic.twitter.com/7nnwNJgPQZ

— The Cambridges News (@NewsCambridges) November 27, 2020
The couple would later pose together for a photo where Kate showed-off her 18 carat sapphire and diamond engagement ring, which previously belonged to Princess Diana. He explained, "It is a family ring, yes. It's my mother's engagement ring. So I thought it was quite nice because obviously she's not going to be around to share any of the fun and excitement of it all – this was my way of keeping her sort of close to it all."
After being engaged for six months, the lovebirds swore everlasting love to each other at Westminster Abbey on Friday, 29 April 2011. Since Prince William is the heir to the throne, the date of their wedding became an official bank holiday in the UK. The bride wore a gorgeous Alexander McQueen lace gown designed by Sarah Burton, which became one of the most iconic wedding dresses.The guest list was quite long, and included the British royal family, other royals from around the globe, and many celebrities, such as David and Victoria Beckham and Sir Elton John among many others.
The royal wedding ceremony was broadcast around the globe, reportly watched by around 300 million people on television.
Following their marriage, the couple settled down in Kensington Palace, and the Queen bestowed on them the titles of the Duke and Duchess of Cambridge.
In December 2012, they announced Kate's pregnancy with their first child in a statement – "Their Royal Highnesses The Duke and Duchess of Cambridge are very pleased to announce that The Duchess of Cambridge is expecting a baby," and added, "The Queen, The Duke of Edinburgh, The Prince of Wales, The Duchess of Cornwall, Prince Harry and members of both families are delighted with the news."
She gave birth to their first son, Prince George Alexander Louis of Cambridge, on 22 July 2013. He becomes the third in line to inherit the British throne, after his grandfather Prince Charles and his father Prince William. He was baptized in October that year, in the Royal Chapel at St James' Palace.
Soon after they celebrated Prince George's first birthday, the couple announced Kate's pregnancy with their second child. They welcomed a daughter Princess Charlotte Elizabeth Diana of Cambridge, on 2 May 2015. She was named in honor of her great-grandmother Queen Elizabeth II, and grandmother Princess Diana, and was baptized at St Mary Magdalene Church, Sandringham in July of the same year.
In August 2017, Prince William and Kate Middleton announced that royal baby No. 3 was on the way. On 23 April 2018, she gave birth to their second son, Prince Louis Arthur Charles of Cambridge, who had his christening in the Chapel Royal at St James's Palace in July 2018.
On 29 April 2020, the Duke and Duchess of Cambridge celebrated their ninth wedding anniversary. We can wish them nothing but the best! Their love story shows us that fairy tales really do exist!