Who has Tayler Holder dated? Girlfriend List, Dating History
• American social influencer, Tayler Holder, is popular across all social media platforms with 12 million Twitter followers, 5 million Instagram followers, 1 million YouTube subscribers, and 15 million TikTok fans.
• Holder grew up in Texas and moved to Los Angeles at the age of 18 to pursue a career in acting and singing.
• Holder had a tumultuous on-off relationship with Sommer Ray that ended in July 2020, and is currently in a relationship with Charly Jordan.
• Before his relationship with Ray, Holder had a short-lived relationship with Logan Paul's Team Ten member, Kaylyn Slevin, and a mock relationship with fellow Hype House member, Dixie D'Amelio.
• Holder is close friends with American gymnast and dancer, Kelianne Stankus, and there were rumors that they were in a relationship.
The American social influencer, Tayler Holder, recognised for his comedic lip-sync videos and his modelling profile on Instagram, is still one of Tik-Tok's most prominent content creators. Although still young, Tayler's dedication has afforded him high regard on the social media app, as he quickly grew into one of the most popular personalities across all the social media platforms available.
With 12 million Twitter followers, five million Instagram followers, just over a million YouTube subscribers, and 15 million TikTok fans, it seems clear that his popularity will not fade quickly.
Tayler, born in Alvarado, Southern Texas, on 19 August 1997, spent most of his early life in the state. Although details of his childhood are largely unknown, he is the youngest of three siblings, with an older brother, and an older adopted sister, but despite the curiosity of his many fans, nothing about them has reached the public.
After matriculating, Tayler moved to Los Angeles, California with the intent of chasing his dreams of becoming a singer and actor. There he started developing his online presence on social media, and before long, his content gained a mass following.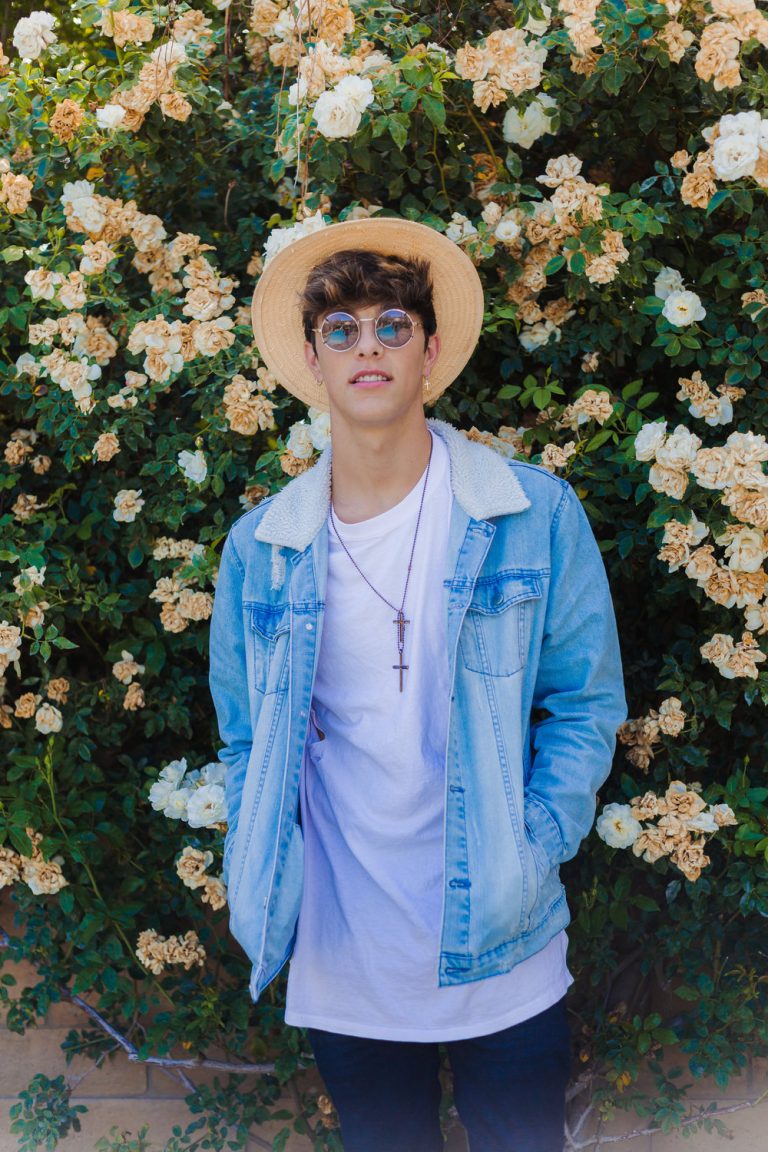 Other than his Instagram modelling, funny Tik-Tok videos, and life-style vlogging on YouTube, Tayler also successfully released a couple of singles – 'Who I Am' and 'Fallback' – as well as a Christmas single which he recorded with Casey Bear.
As curious as his fans have been about the young influencer's early life, they are more interested in the juicy details of his romantic interests. Being seen as one of the sexiest and most attractive influencers on Tik-Tok and Instagram, it should come as no surprise that Tayler has a history with some of the top influencers in the world of social media.
By all means, Tayler has not been shy about his romances, as a couple of Holder's relationships played out before the eyes of all his followers. Even more, the latest rumours suggest that the 23-year-old influencer could be dating the American fitness model, Sommer Ray.
For years, Tayler has been friends with American gymnast and dancer, Kelianne Stankus, who recently became a content creator on TikTok. While she might be new to the social media platform, Kelianne has previous experience with public exposure, as she made a name for herself in the competitive world of gymnastics, winning a gold medal at the 2005 Freedom Cup gymnastics event, and is a familiar name to many who follow the sport.
Despite claiming to be good friends, many of Tayler and Kelianne's fans have long suspected that their friendship could be built on a closer bond than the two are willing to admit.
A 2017 video in which Tayler and Kelianne kissed in front of the camera went viral, but seemed to be nothing more than a stunt to gain more views. Following the release of the video, they continued to be friends, but in a video posted three years later in 2020, they elaborated on the stunt. This time they pretended to be in an actual relationship, however, according to Kelianne, there was more to it than just an act.
Kelianne revealed that they kept their relationship secret, though admitted that it started as a friendship.
Things ended bitterly, as Stankus stated that their association ended because they started seeing other people, but according to her, it was for the better. She claimed that the relationship was extremely confusing, and to some extent even toxic, and would have ended sooner or later, with Kelianne seemingly glad that it ended sooner.
Since their break-up, Tayler and Kelianne have apparently set aside their differences, and have re-established a good friendship. Both have since moved on to date other people.
Rumour has it that Kelianne is currently dating the model Chase Mattson, while Tayler started seeing several other girls.
In light of the secretive nature of Tayler and Kelianne's relationship, it is difficult to place an exact time on the events of their romance. It becomes even more challenging to dot down precisely the romances that followed, especially the alleged relationship Tayler had with Logan Paul's Team Ten member, Kaylyn Slevin.
While many of the Hype House members are known for their dirty, attention-seeking tactics like faking relationships, cheating, flirting with people in other relationships, and more, most fans would claim that Holder is the most honest member.
Our full interview with @TaylerHolder is up now!!– https://t.co/gl6oZq9aPQ pic.twitter.com/3jQKb9MQcN

— Zach Sang Show (@ZachSangShow) December 3, 2020
Considering the shroud of mystery about his relationship with the young actress, Kaylyn, it would seem that the Instagram model fell victim to the influence of the Hype. Some sources claim that Kaylyn and Tayler dated for a while in 2019, while others say there is no reliable evidence to confirm the relationship.
The only evidence which suggests that a relationship might have happened between Tayler and Slevin, is a video posted on Holder's YouTube channel in which he breaks the sad news to his fans of their supposed break-up. He also goes into detail about the reason for their separation, explaining that Kaylyn's busy schedule prevented her from devoting the attention to Holder that he supposedly deserves.
In the video, Tayler admits that he and Kaylyn will continue their friendship, and showered her with nothing but compliments. Before his relationship with Kaylyn gained attention, Holder expressed his interest in another girl, Logan Paul's former assistant and Instagram hottie, Ayla Woodruff.
He even went as far as asking her out on camera, but, unfortunately, nothing came of it. Following this, Tayler had a mock relationship with fellow Hype House member, Dixie D'Amelio. The two appeared regularly in each other's Tik-Tok videos, but never confirmed their relationship, although it did get their fans excited and expectant that they would eventually come out with the truth.
Unfortunately, it seemed to be just another dirty antic from the Hype crew.
Now, in most recent developments, Dixie and her current boyfriend, Noah Beck, are facing similar allegations of faking a relationship.
The only undisputed relationship in Tayler's list of past romances was the on-off, dramatic complication he had with the model Sommer Ray. It's unclear when the two met, but the earliest connection between the two surfaced publicly on 19 May 2020. Tayler posted a Snapchat conversation he had with Sommer, and a day later Sommer posted a dancing Tik-Tok in Tayler's company.
In the days that followed, the two appeared more frequently together, which become ever more suggestive of a romantic relationship between them.
On 16 June the beans were spilt on the YouTube series 'TeaTok', as the subject of discussion becomes Tayler and Sommer's recent romantic fall out, during which they unfollowed each other. This followed a Tweet posted by Ray, in which she cryptically told someone, whom most believe to be Tayler, that his apology needs to be as big as his disrespect was.
However, not long after this supposedly first break-up, the couple dined together, but when questioned about their relationship, said that they were only friends.
Then, towards the end of June, they started TikToking together again, and it seemed as if their relationship was back on and sweeter than ever.
However, on 10 July Tayler confused everybody after being spotted on a dinner date with someone other than Sommer. The lady in question was no other than the social media model and influencer, Charly Jordan. After Tayler's not-so-secret date, it seemed as if Sommer quickly forgot who he was.
When questioned by the media, Sommer simply asked who Tayler was.
After a series of cryptic, almost melancholic messages on social media, Tayler confirmed that he and Sommer called it quits on their relationship for the final time. While many of his fans shared his heartbreak, others voiced their suspicions, accusing him of cheating on Sommer.
Tayler quickly responded by posting videos on his accounts in which he dismissed the claims fans made, saying that he didn't cheat on Sommer, and that she was the one who blocked him on social media.
black friday sale going on nowww thru the weekend 💛💛 enter BFCM2020 at checkout 😛https://t.co/DVFEHFrDbf pic.twitter.com/rF2YJwP78R

— Sommer Ray (@SommerRay) November 28, 2020
However, fans continue to speculate on the allegations, especially now that Tayler and Charly have made their relationship official. In the same video, entitled as a message to his ex-, Tayler urged his fans not to harass his new girlfriend and bring negativity into his life.
Regardless of Tayler efforts, it appears that his fans aren't in favour of his latest romance. Nonetheless, Tayler and Charly seem oblivious to the ridicule, as they continue to post sweet and romantic pictures on their social accounts.
For now, though, fans are staying tuned to see if any further drama unfolds in the dating history of Taylor Holder.