Who has Usher dated? Girlfriends List, Dating History
The handsome musician
Born Usher Raymond IV in Dallas, Texas USA, on 14 October 1978 under the zodiac sign of Libra, he's one of the most successful R&B musicians in the world, and one of the best-selling music artists of all time with 80 million albums sold globally.
He's released eight studio albums and 79 singles, with his number-one hit singles including "Nice & Slow", "Yeah!" featuring Lil Jon and Ludacris, and "OMG", featuring will.i.am. Thanks to his accomplishments in the music industry, he has won eight Grammy Awards, 34 ASCAP Awards, and 18 Billboard Music Awards.
Usher is also the co-founder of the recording label Raymond-Braun Media Group (RBMG), alongside his talent agent Scooter Braun. Moreover, Usher has tried himself as an actor, starring in such titles as "Texas Rangers", "In the Mix", and "Hustlers", among others, and in 2008 he performed on the Broadway stage in the musical "Chicago".
Regarding his personal life, it seems that Usher has been a topic of conversation ever since his career took off back in the 1990s. He quickly became one of the most desirable entertainers among the female section of his audience, partly due to his good-looking appearance.
Over the years, Usher has been romantically linked to many ladies – his dating list is quite long and includes many familiar names.
.@Usher earns his 32nd top 10 on the R&B/Hip-Hop Airplay chart, the fifth-best streak of all time, as "Bad Habits" hits No. 1 on the chart. https://t.co/W9UR5XMhH6

— billboard (@billboard) December 4, 2020
So, if you want to find out more about this aspect of his life, just keep listening 'til the end, and you may discover something interesting!
Usher's first girlfriend appears to be Karon Vareen, known for being the daughter of famous American actor, singer, and dancer Ben Vereen. According to The New York Times magazine, they dated back in 1993, when Usher was about 15, after he'd moved from Texas to New York to work on his debut studio album. He even met Karon's father Ben, who encouraged him to pursue his career further. The couple eventually broke up but remained on good terms – her father subsequently became Usher's mentor and godfather.
In January 1995, Usher was rumored to have become involved in a relationship with singer-songwriter Monica. The couple reportedly split in September of the same year, although she would later deny the rumors when she appeared on "T.I. & Tiny: The Family Hustle", saying "We are like siblings. And contrary to popular belief, we never dated or anything."
After making his acting debut in the UPN sitcom "Moesha" in 1997, Usher sparked rumors that he'd hooked-up with his co-star and lead actress Brandy Norwood. The duo reportedly dated for a couple of months, but there's no independent confirmation of their association.
In August 1999, Usher allegedly had a sexual encounter with former model Karrie 'Superhead' Steffans, as she claimed in her 2005 autobiography "Confessions of a Video Vixen".
She also revealed that their affair was ended as soon as he fell for Chili Thomas, but the two renewed their relationship in 2004, for about five months of dating, then called it quits.
Usher's first highly publicized relationship was with TLC member Rozonda Ocielian 'Chilli' Thomas. They became romantically involved in 2001, after she featured in the music videos for his songs, "U Got It Bad" and "U Remind Me".
After two years of dating, the couple parted ways in December 2003, around the same time that he released his fourth studio album, "Confessions", which included songs inspired by the personal lives of himself and his collaborators. Although the songs about infidelity weren't inspired by his life, many speculated that there had been some relationship issues because Usher was unfaithful to Chilli.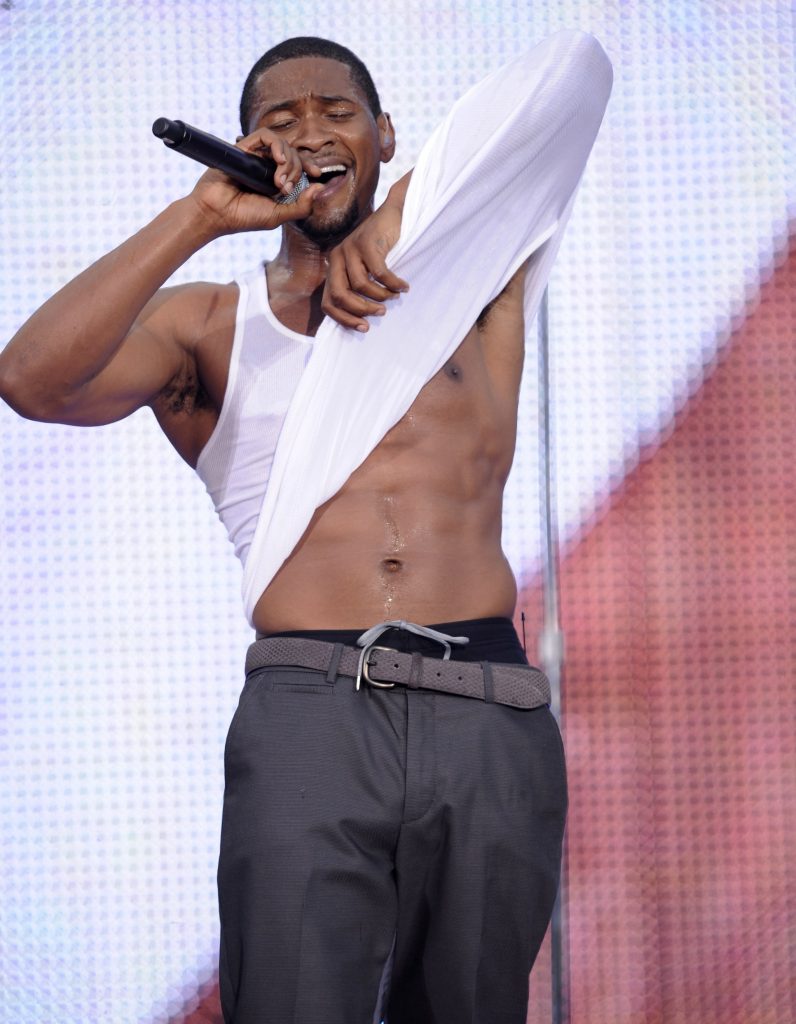 Shortly afterwards, he confirmed their split. According to People magazine, he said during a radio program, "Yeah, I'm single." but that they remained on good terms – "We're still friends. It's just something that happens in life." In February 2004, Chilli insinuated that the cheating rumors were true during her appearance on Atlanta's Q100's "The Bert Show", saying "Usher did the ultimate no-no to me. I will never be with him again, and that is that," and added, "He portrayed himself to be this honest and great guy, and he really wasn't." an assertion which he later denied.
Over the time, things changed somewhat, and Chilli in her October 2013 interview with US Weekly magazine, admitted that she was wrong, saying "All of those songs on Confessions, that was about Jermaine Dupri's situation.
Usher was just singing it. But people kind of bought into it, it was just the timing of our breakup when the album came out. People assumed that 'Confessions' was about us, but it was not. We broke up because I guess it was that time or whatever." Chilli also admitted that Usher was her "first adult love" and that she will always love him.
While he was still in a relationship with Chilli Thomas, Usher was rumored to have hooked-up with Puerto Rican singer Melinda Santiago. They reportedly dated for a short period in 2002, and it was also rumored that she tattooed his name on her hip after their break-up, and that her next boyfriend, actor Tyrese Gibson, dumped her when he saw it!
Thereafter, the handsome singer allegedly dated actress and former fashion model Joy Bryant, from March to July 2004, however, neither of them confirmed or denied it.
Also in 2004, it was rumored that Usher became romantically involved in a relationship with supermodel Naomi Campbell. They made a public appearance arm-in-arm at the 2004 MTV Europe Music Awards, which heated up the rumors. People magazine reported that in October of the same year, she even surprised him by popping out of a cake for his 26th birthday, but reportedly, they didn't last long as a couple.
According to Daily Mail magazine, Usher and Naomi decided to split because he was 'bored', while she found his entourage 'too controlling."
However, he tried to shut down those rumors in his 2005 interview with CONTACTMUSIC.COM, saying, "We were never a couple. We never dated. She just accompanied me to an event and is a great friend of mine who I think is a great person." The attractive supermodel also denied their relationship, telling ABC News' Diane Sawyer on the "Primetime Live" show, "We were never boyfriend-girlfriend."
Whatever happened, or didn't, Usher soon began dating renowned fashion model Eishia Brightwell. She even accompanied him at various red-carpet events in 2005, including the Vanity Fair Oscar party, the Grammys, and the NAACP Awards, among others, but they managed to keep their relationship on a low-profile.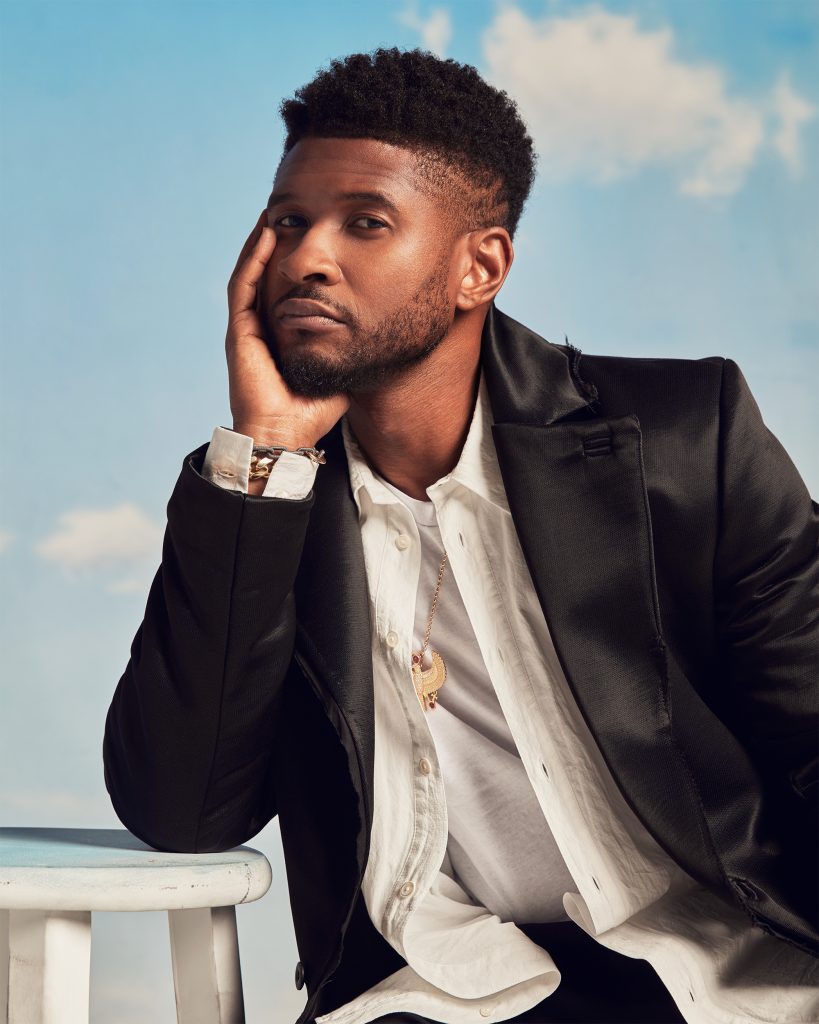 In April, a source close to them told People magazine that Eishia was "so right for him," and added that the two were "both very goofy and playful." Still, the couple ended their romance by the end of the year, although no reason for their split was given, or if the former lovers remain on good terms.
Moving right along, Usher next started dating his personal stylist, Tameka Foster, in November 2005, and after dating for a year, the couple took a step closer to marriage when Usher popped the question, and the two became engaged in February 2007.
In June of the same year, Tameka opened up about their relationship in her interview with Essence magazine, saying "What people don't realize is that Usher and I were friends for nearly seven years, and I worked as his personal stylist for five years. I was the only female friend he felt he could talk to."
She also revealed that she wanted to have children with him, adding "This is the man I love and plan to spend the rest of my life with, so why wouldn't I want to share that bond of bringing another life into this world with him?"
A week later, the couple announced her pregnancy with their first child, saying in a joint statement, "We are extremely excited at this point in our lives, planning our wedding and the joy that comes with expecting our first child together." Usher and Tameka eventually tied the knot in a civil ceremony on 3 August 2007, which was followed by large wedding ceremony at the luxury Chateau Elan Winery & Resort in Atlanta on 1 September 2007.
An insider told People magazine, "They are in love and they wanted this to be perfect. They had their reasons for not getting married before, and that's their own business. Now they could get things done the way they wanted to, their family and friends can be here now."
Usher even adopted her three sons from her previous relationships, while that November he welcomed his first child, a son they named Usher 'Cinco' Raymond V. Tamika gave birth to their second son, Naviyd Ely Raymond, in December 2008. At the time, Usher told People magazine, "I'm so proud to be a father by the time I'm 30. I'd hate to be 80 years old and not be able to run with my kids. I need to still be able to do flips when they're in high school!"
Shortly afterwards, things went sour between the two of them, with Usher being the one who filed for divorce in June 2009, finalized in November that year. They then engaged in highly publicized custody battle which lasted for the next three years, until in August 2012, a judge awarded Usher primary custody of their two sons.
According to US Weekly magazine, the proud father once said, "I was born to do what I'm doing as a dad; I realized that once I had a child. When I had them, that's when they became a priority."
In his September 2014 interview with O magazine, Usher opened up about his failed marriage with Tameka, admitting that his best mistake was "getting married at 28," and then explaining "Most people probably think I regret it because I ended up getting divorced, but it helped me learn that sometimes I think I know more than I actually do."
Hope to see you at @Complex's Pull Up & Vote Party today @ 9p ET / 6p PT. We'll be celebrating the biggest vote of our lifetime. #pullupandvoteparty #pullupandvote pic.twitter.com/OvicV3pUJQ

— Usher Raymond IV (@Usher) October 20, 2020
After the divorce, Usher started dating his manager Grace Miguel. In his 2014 interview with Billboard magazine, he confirmed their romance and described her as "an incredible partner and manager. She has helped me through some of the hardest times in my life and my career. She's someone who's been able to support and understand all of who I am."
Usher proposed to her in January 2015, and was spotted wearing a gold wedding band in September of the same year. It was later confirmed that the couple exchanged their wedding vows earlier that year at a secret ceremony during a vacation in Cuba. A source revealed more details to E! News magazine, saying "They are extremely happy and the way it was done was very sweet and romantic. He can't wait to spend the rest of his life with her."
The source also added that she gets along well with his two sons.
Well, you may know or have guessed that, after being married for three years, Usher and Grace announced their split in a joint statement in March 2018. According to People magazine, they said "After much thought and consideration, we have mutually decided to separate as a couple. We remain deeply connected, loving friends who will continue supporting each other through the next phases of our lives. The enormous amount of love and respect that we have for each other will only increase as we move forward."
Usher filed for divorce in December 2018 which is yet to be finalized.
A source later revealed to The Jasmine Brand magazine that Usher and Grace split because she wanted to have a surrogate, but Usher was only willing to adopt, which put a serious strain on them. The source also added that the former lovers were fighting about it non-stop. Are you thinking that if they really loved each other, then this problem could have been sorted?
Maybe not, as rumors started swirling around that Usher became romantically involved with Jenn Goicoechea in October 2019, after the duo was spotted together at the Hollywood Bowl. She is a music executive, known for serving as the Vice President of A&R at Epic Records. During the same month, he uploaded an Instagram photo of her kissing his cheek with the caption, "'Cause she's such a good kisser!"
Although they frequently appeared at various events in early 2020, they decided to keep their relationship to themselves, away from the eyes of the public. However, in August 2020, US Weekly magazine reported that the couple was expecting their first child, and Usher's third. They were photographed outside his production studio in Los Angeles, in which you can see Jenn showing off her baby bump. A source close to them told the magazine that Usher and Jenn were "thrilled and very excited."
The happy parents welcomed their baby girl they named Sovereign Bo on 24 September 2020. Usher confirmed the news by posting an Instagram photo of her little hand holding his finger, and writing in the caption, "We are feeling blessed and full of love with the arrival of our beautiful baby girl, Sovereign Bo Raymond" – "Isn't She lovely" by Stevie Wonder on repeat, with heart emojis. A source told People magazine, "Usher and Jenn are overjoyed, and so is the whole family, including Sovereign's big brothers. Everyone is so happy and excited."
Congratulations to them! We can't wait to meet her! Hopefully this relationship proves more successful than those previously in Usher's dating history!