Who has Zendaya dated? Zendaya's Dating History
Many would remember Zendaya from her breakout role as Rocky Blue in Disney Channel's 'Shake It Up', but the young actress has a long history in the entertainment business that many wouldn't know about.
Zendaya Maree Stroemer Coleman, born on 1 September 1996, in Oakland, California, USA, started her career as a child model, as well as performing as a back-up dancer. Zendaya, whose name derives from the Soan language of a Zimbabwean tribe, meaning 'to give thanks to God', is the only child of her mother, Claire Marie Stoermer.
Her father, born Samuel David Coleman, is an African-American born and raised in Arkansas, who has five older children, half related to Zendaya. Her mother is of German-Scottish descent. Zendaya began modelling under the influence of her mother, who worked as the house manager for the California Shakespeare Theatre in Orinda.
Zendaya received training in the theatre's student conservatory program, and at the age of eight joined a hip-hop dance group called Future Shock Oakland. She further studied at the Oakland School of Arts, and later joined the American Conservatory Theatre.
While tending to her studies, Zendaya also performed in numerous stage productions, which included Shakespeare's 'Richard III' and 'Twelfth Night', and other productions such as 'Once Upon This Island', and 'Caroline, or Change'. Her modelling credits included working for Macy's, Mervyns, and Old Navy, and Zendaya also appeared as a back-up dancer in a Sears commercial that featured Selena Gomez.
Zendaya made her debut as a singer in 2009, when she was a featured performer on Kidz Bop 15. In November 2009, she auditioned for 'Dance Dance Chicago', which later changed its title to 'Shake It Up'. Zendaya originally auditioned for the part of CeCe Jones, but was instead cast in her breakthrough role as Rocky Blue.
She then became a competitor in 'Dancing With The Stars' in 2013, making her the youngest dancer on the show, until later succeeded by Willow Shields.
That same year she also released her debut album, and a single entitled 'Replay'. Her fame spiked to new heights when she played the character Michelle in 'Spider-Man: Home Coming', and then landed a lead role in the 2019 HBO drama 'Euphoria'.
Apart from singing and dancing, Zendaya is also an avid fashion designer; in 2016, her Daya by Zendaya fashion line went on sale.
She is also a philanthropist and an ambassador for the non-profit organisation Convoy of Hope.
Zendaya is a proud vegetarian, but it is just about the only personal detail she talks about publicly, keeping her private life very low key, although occasionally sharing events on social media.
As one of the most attractive rising stars, one might think that Zendaya would be out to charm the hunkiest celebrity men out there, but that doesn't seem to be the case.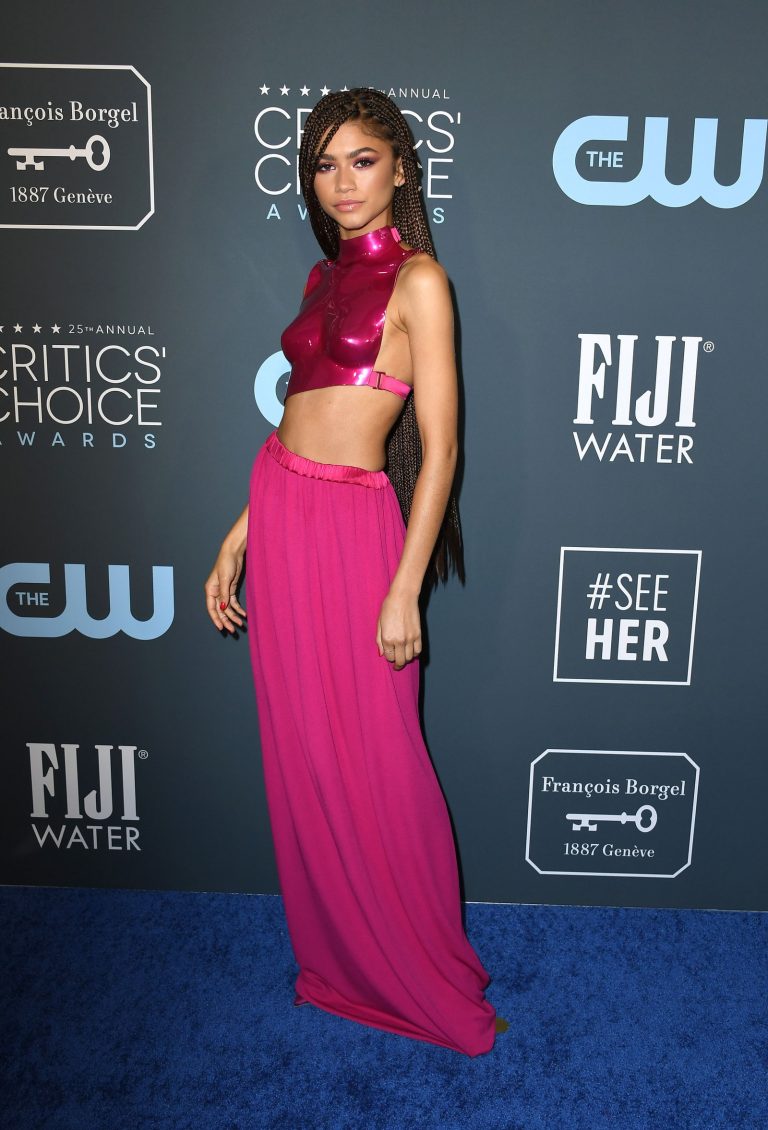 It may be true that she is still young, so there are only a few lucky men who've dated Zendaya. If the rumours are true, it appears to be that she's in the habit of falling for her co-stars.
Long Term Secret Puppy Love
When it comes to keeping things private, Zendaya succeeded for years, and could be a prime example to the many other celebs who try their best to avoid the gossip columns. In an interview with Vogue, Zendaya surprised a lot of her fans when she admitted to going through a break-up. Zendaya never mentioned who the man in her life was, but most people speculate that it may have been Trevor Jackson.
The two of them had a very close friendship, and Jackson once admitted that they could one day become more than friends, if their busy schedules allowed. While few people even knew about it, Zendaya may have dated the American actor for more than four years.
In 2015, the two wished each other a happy Valentines Day, and he may be the one who presented Zendaya with her adorable puppy, Noon, on Christmas later that same year.
Considering the advice Zendaya gave a fan on dealing with the heartache associated with a break-up, and looking at how her friendship with Jackson came to an end, speculation might be true. The advice Zendaya shared included forcing herself to have more fun, and to cut all ties with the other person, which includes getting rid of their contact details. Zendaya and Trevor no longer follow each other on social media, and haven't been seen hanging out together for a long time.
If the postulations are true, Zendaya met Trevor on the set of 'KC Undercover', when he appeared as a guest star in one of the episodes.
Since then they became good friends, but as the relationship was so secretive, there is no way to determine when they started dating or when they separated. According to Zendaya, the relationship ended badly.
She stated in the interview that she considers it a mistake that she was going to regret for the rest of her life. She also said that he was her first love, and admitted to a fan that the break-up had been a rough time. Since her split from the secret boyfriend, rumours suggested that Zendaya may have dated other men, but thus far she's kept quiet about any other relationships she's had.
Considering how effective she is at keeping her private life secret, she may have continuously denied romantic claims for the sake of maintain that front. However, keeping in mind how busy she has been over the years, recording music and acting in several blockbuster films, it might well be that she doesn't have the time to be dating.
Regardless of her busy career, it seems Zendaya still has time for her so-called friends.
In 2016, rumours surfaced that Zendaya could be dating NFL All-Star Odell Beckham Jr. The two were seen together at the Grammys Award Ceremony, and enjoyed the afterparty in each other's company. At the time the New York Giants wide receiver had previously been linked to Rose Amber, while Zendaya's secret romance had not yet attracted public notice.
Believing that both were celebrating their single status, people thought that the two might be hooking up. They were spotted leaving the afterparty together, but when later questioned about it, Zendaya denied the rumours. She said that her career gets plagued with dating rumours a lot, but she simply doesn't have the time to be looking for a boyfriend.
Odell, known professionally as OBJ, was again spotted with Zendaya not long after the dating rumours got dunked.
— Zendaya (@Zendaya) September 8, 2020
This time, it seemed more like a date than the two would like to admit. They got together for a Knicks game in New York, and acted cute with each other. They later stated that they happened to run into each other, and that they did not plan the meeting. Either it was serendipity or the two were simply hiding the truth – believe what you will!
Zendaya wasted little time before exercising damage control on Snapchat, which is her favourite platform, telling her fans that she did not know that OBJ was going to be at the basketball game, but even years later, the two seem to have the same chemistry going. When in 2019  Zendaya surprised OBJ at an airport in Paris, France, they appeared to have the same casual friendship as before. The encounter made old rumours resurface, as gossip tabloids suggested that they were rekindling their old flame.
However, the two continued to deny dating rumours – Odell has since been dating Lauren Wood, and rumoured to be involved with Demi Lovato. Both Zendaya and Odell visited France for the local fashion week, and their reunion at the airport displayed the casual nature of their friendship. With this in mind, it could not be too farfetched to believe that they are only friends. From what people could tell by their behaviour, they most likely have only been platonic friends, as there seems to be no bad – or hot – blood between the two.
While sharing the screen with Zac Efron in the brilliant production of 'The Greatest Showman', Zendaya's chemistry with her co-star made many of her fans believe that they might be falling for each other. Zac and Zendaya played the roles of a couple who fall in love at a time when inter-racial relationships were a serious offence, but far more intriguing than the characters and story of the musical was the chemistry the two displayed, especially during after production interviews.
Regardless of what people believed, Zac and Zendaya held fast that nothing romantic was in development in their real lives, and that they simply enjoyed working together. In an interview on an Australian morning show, Zac admitted several cute and sweet insights about what it was like during the filming of the movie.
At one point he told the audience that he swelled with butterflies while staring into his co-star's eyes, but not to draw it out of context, it may have been because of the trapeze stunts they had to perform. Nonetheless, it seemed as if they shared a cute moment while on set, Zac confiding that the on-screen kiss he shared with Zendaya is among his favourites, if not his most favourite of all.
It is true that Zac has a history of dating his co-stars, who include Vannesa Hudgens and now also Rebecca Ferguson, and that this was in a time Zendaya still faced rumours that she was dating her co-star from 'Spider-Man', Tom Holland.
Zendaya later entered damage control, trying to explain that the story behind their shared kiss, being both dangerous and long expected, played a great factor in the beautiful chemistry between them.
Zac admitted that while on set, he tried to be like a big brother to Zendaya, constantly checking in on her to know if she is doing well. Both admitted that during the filming they were concerned for each other, but it was mostly because of the exhilarating danger of their trapeze act, and Zendaya jokingly said that the circus is no joke. Regardless of what people want, Zac and Zendaya are only friends, but the two stars provided their fans with a fantastic performance nonetheless.
So as of mid-2020, Zendaya appears to be unattached, and in a perverse way, enjoying her status as 'hard to get', while maintaining her closely guarded private life.
Rumours, Rumours
Something about the 'Spider-Man' franchise seems to make its co-stars just fall in love, maybe its the chemistry between MJ and Peter Parker, but both Emma Stone and Andrew Garfield, as well as Toby McGuire and Kirsten Dunst, got together in real life after filming.
As it appeared, it seemed to follow a pattern when rumours began drifting around that Tom Holland and Zendaya are dating in real life. Even though both Tom and Zendaya denied that they are dating, stating that they are only friends, people did not believe them. Considering how many times Zendaya fooled the public with the same story, it is no surprise that no one believed her this time around. The first evidence of a possible relationship between them started when Tom shared an Instagram post of Zendaya and another friend having fun in a pool during the summer of 2016. Zendaya later posted on Instagram that Tom is one of her favourite people.
This post followed a visit to a New York hospital where Tom visited patients dressed as Spider-Man. Dating rumours were further fuelled after People magazine published an article that suggested a close source to the couple told them that the two were spending as much time together as possible, even going on vacation together.
Zendaya took to Twitter to deny the rumours, saying that it makes her laugh, especially because she has not been on vacation for years. However, despite all the denial, their friendship seemed to blossom as they were seen together several times, even a year after the filming of 'Spider-Man' were wrapped up. Tom even had the chance to meet Zendaya's parents, making things seem far more serious than they would ever admit. More spice was thrown into the dating rumours when Skai Jackson's mother replied to an Instagram comment, confirming that the two were dating but kept their relationship super quiet. Skai Jackson is a close friend of Zendaya, and it is thought that such a close source would be trustworthy, but it caused its fair share of drama. During the filming of the 'Spider-Man' sequel, Tom posted a very suggestive Instagram photo. In the post, he tagged Zendaya's name where it could mean that she is a notch on his belt. The post was later made out to be a blunder, with Zendaya explaining that Tom is a bit Instagram stupid.
Yet, neither one has confirmed that they are in a relationship, and everything may only be evidence of a good friendship.
Euphoria
The most recent rumours that concerns Zendaya's love life involves her 'Euphoria' co-star, Jacob Elordi. Despite that the two actors maintained that they are only friends, Zenday and Jacob were spotted kissing and even spent some time together on vacation in Greece. They met in 2019 while filming 'Euphoria', and nearly immediately rumours of a romance surfaced. Jacob broke his silence about the dating rumours, saying that Zendaya is like a sister to him, while Zendaya referred to him as her best friend. However, after being spotted during a day out in New York City, where at one point the two shared a kiss, it is unlikely that they will be able the hide the truth for much longer. Besides, no one would kiss their sister in any similar fashion. Their romance is still young, and people would have to wait and see how things develop between them, but for now, it looks as if something is definitely brewing.